OK, so this isn't a definitive list, but you gotta admit, these guys are pretty epic.
Need an idea for Lenten almsgiving?
Help us spread faith on the internet. Would you consider donating just $10, so we can continue creating free, uplifting content?
Make a Lenten donation here
A definitive list of the "coolest" Catholic saints would be downright impossible to pull together.
And so, as it is with so many other Top 5 lists, this list of the 5 Coolest Catholic Saints represents only a snapshot in time, a brief freeze frame of the saints currently touching my own life, encouraging me to do better, and exemplifying Catholic Cool all at the same time.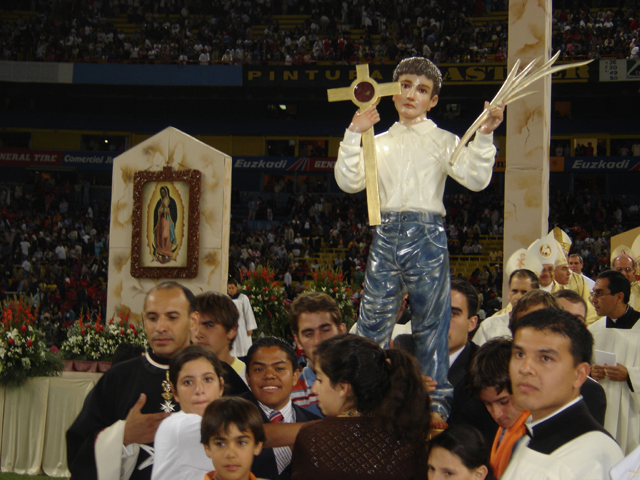 Launch the slideshow
St. José Luis Sánchez del Río
(1913-1928, feast day: February 10)
If you are looking for an example of other-worldly courage, look no further than José Luis Sánchez del Río.
Born in Sahuayo, Mexico, José Luis grew up during the rule of the intensely anti-Catholic government of President Calles. As a child, José Luis watched his brothers bravely join the Cristeros, the rebel resistance movement fighting for Christ and against the government and its unjust policies, and wanted to fight alongside them. Despite a firm no from his parents ("You're just a kid!!"), José Luis persisted, and was eventually allowed to become the flag bearer for the Cristero forces. During an intense fight in early 1928, José Luis was captured after sacrificing his own safety by giving his horse to the Cristero general, and was sent to a local parish that had been turned into a jail.
While in custody, he was tortured by the government officials and even forced to watch the hanging of a friend, in the hopes that he would renounce his faith. He never did. Instead, he prayed the Rosary daily and maintained hope in God's plan for him to join the saints in Heaven as a martyr.
The next month, when José Luis was just 14 years old, government officials sliced the bottom of his feet and forced him to march through the town to the cemetery. During the long and agonizing walk, he was repeatedly cut with machetes and told he would only be spared if he shouted "Death to Christ the King." Instead, he continued to march along like Christ on the road to Calvary, screaming with every ounce of his being, "I will never give in. Viva Cristo Rey!"
As he lay at the cemetery, dying as a martyr for the faith, he drew a cross in the dirt, kissed it, and entered into Jesus' loving embrace.
St. Dymphna
(7th century, feast day: May 15)
Born in Ireland in the 7th century to a pagan father, Dymphna relied on the protection of her devoutly Christian mother as she grew in her love of Christ.  When she was just 14 years old, she consecrated herself to Our Lord and took a vow of chastity. Her mother died not long after, however, and Dymphna's life would take a dramatic turn.

Her father, a leader in the local area, was pressed to remarry, but vowed to only marry one as beautiful as his deceased wife. This led to a crazed decision to marry his own daughter. She resisted, for obvious reasons, and had to flee with a priest to present-day Belgium in an effort to avoid her father's advances.

She began using her wealth to help the poor in her new home, but as her fame spread her father was able to find her, and enraged by her continued refusal to consent to his plans, he beheaded her and her priest friend.
As with José Luis, Dymphna persisted until the end, and exemplified cool even in the face of death.
St. Gabriel of Our Lady of Sorrows
(1838-1862, feast day: February 27, or February 28 in Leap Years)
Born in Assisi and baptized in the same baptismal font as St. Francis, St. Gabriel of Our Lady of Sorrows started on the path to holiness before he even realized it As a young man, he was well liked, and while he was known for his kindness and charity, he also lived a life typical of someone of that age.

He was known to spend hours in front of the mirror preparing himself to look impeccable at parties, would sneak out of the monastery late at night in the hopes of finding a local girl to marry, and was well known among his peers as a ladies man. Around this time, however, he fell seriously ill, and when praying for healing he made a promise to turn his life around and enter religious life if God would spare him.
God did, and so St Gabriel of Our Lady of Sorrows felt compelled to hold up his end of the bargain. He grew in holiness and remained cheerfully devoted to Our Lord and Our Lady even in the face of the tuberculosis diagnosis that would eventually claim his life before he had a chance to be ordained to the priesthood.

He was willing to leave sin behind and turn his life around for Christ, and there's not much cooler than that.
Venerable Matt Talbot
(1856-1925, feast day: June 18)
A seemingly unremarkable man from Ireland who gives an example of finding our extraordinary God in the ordinary parts of life, Matt Talbot is a soon-to-be saint who can inspire all of us. Born into a working class family with 12 children, he started working in a wine merchant's store at the age of 12. The hard work he put in during the day led to the typical visit to the pub at the end of the day, and when he was still just a teenager he was considered a lost cause because of his intense addiction to alcohol.
One day when he was out of money, he sat in the streets outside a pub hoping a friend would invite him in for a free drink. As he watched his friends walk past him without even a caring word, he experienced a profound conversion that would lead him down an entirely different path. He renounced alcohol and focused his life on Christ, and after 16 years of heavy drinking he never took another sip for the rest of his days.

Instead, Matt attended daily Mass, hid himself away for prayer during the slow times at work, and performed severe mortifications like fasting and sleeping on a wood plank for a bed in reparation for his sins and those of the whole world. His mother reported that she would see him in what looked like a state of ecstasy for hours at a time in his room at night having conversations with the Blessed Virgin Mary.
He died of heart failure on the way to Mass in 1925. No one at the scene of his death was able to identify him, but upon arrival at the hospital, the staff examining his body found chains wrapped around his body and cords wrapped tightly around his arm and leg. These symbolized his devotion to the Blessed Virgin Mary through the Total Consecration spelled out by St. Louis de Montfort, and it was through this discovery that his sisters were able to identify him.
Matt quietly lived a life of profound holiness, only allowing those closest to him to have any idea about the lengths he went to for his faith. His understanding of humility and not wanting to attract attention to himself is the absolute definition of Catholic cool.
St. Dominic Savio
(1842-1857, feast day: May 6)
The youngest canonized non-martyr saint in the Catholic Church prior to the canonizations of Francisco and Jacinta from Fatima, Dominic was a student of St. John Bosco studying for the priesthood when he became ill and died.
He received First Communion at the age of 7, which was unheard of at that time, and to mark the occasion, he wrote down four rules for himself in his personal journal:
1) I will go to Confession often, and as frequently to Holy Communion as my confessor allows.
2) I wish to sanctify Sundays and festivals in a special manner.
3) My friends shall be Jesus and Mary.
4) Death rather than sin.
Yes, you read that right, he was 7 when he wrote this!
While many felt that a non-martyr who died at just 14 might not be worthy of canonization, the short but powerful life of Dominic Savio shows that he was undoubtedly already on the narrow path, and has plenty to teach us about living a devout life and living it well.