If you are having trouble finding a future spouse, here is a helpful prayer to St. Raphael.
Finding a future spouse can often be very challenging. For some it may be a matter of days or months, while others continue to wait after years and years of searching. If God is calling you to the married state, this can be frustrating.
The good news is that God wants to lead you to the right person, someone who will help you become a great saint. As God said to the prophet Jeremiah, "For I know the plans I have for you, says the Lord, plans for welfare and not for evil, to give you a future and a hope" (Jeremiah 29:11).
One way to help prepare your heart (and the heart of your future spouse) is to pray this prayer to St. Raphael the Archangel. Raphael is found in the Book of Tobit, where he helps two young lovers overcome the many obstacles to their marriage and unite in a prayerful union of souls.
St. Raphael is the perfect intercessor for those seeking a good spouse, and here is a prayer to him that could be said daily.
St. Raphael, loving patron of those seeking a marriage partner, help me in this supreme decision of my life. Find for me as a helpmate in life the person whose character may reflect some of the traits of Jesus and Mary. May he (she) be upright, loyal, pure, sincere and noble, so that with united efforts and with chaste and unselfish love we both may strive to perfect ourselves in soul and body, as well as the children it may please God to entrust to our care.

St. Raphael, angel of chaste courtship, bless our friendship and our love that sin may have no part in it. May our mutual love bind us so closely that our future home may ever be most like the home of the Holy Family of Nazareth. Offer your prayers to God for the both of us and obtain the blessing of God upon our marriage, as you were the herald of blessing for the marriage of Tobiah and Sarah.

St. Raphael, friend of the young, be my friend, for I shall always be yours. I desire ever to invoke you in my needs.

To your special care I entrust the decision I am to make as to my future husband (wife). Direct me to the person with whom I can best cooperate in doing God's Holy Will, with whom I can live in peace, love and harmony in this life, and attain to eternal joy in the next. Amen.

In honor of St. Raphael pray an Our Father, Hail Mary, and Glory Be.
Looking for more prayers? Check out our page of "Prayers for a Particular Need."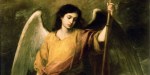 Read more:
St. Raphael, a powerful healer for anyone suffering right now