How people speak can signal that they're struggling with depression.
What can God do in your life with one Bible verse a day?
Subscribe to Aleteia's new service and bring Scripture into your morning:
Just one verse each day.
Click to bring God's word to your inbox
One of the toughest things about mental illness is how hard it is to talk about. I mean, what happens inside your head is really your only idea of "normal." You can't compare you brain with anyone else, after all. And nobody wants to look like they're overreacting, or being a downer. When you add to that mix the social stigma that still comes along with illnesses of the brain, well, there's a reason it's so hard for a depressed person to reach out for help.
Depression makes a person inclined to isolate themselves, and the isolation tends to make the depression worse. That's why it's so important that healthy people learn to recognize depression, so we can help our loved ones to break the vicious cycle.
The sheer amount of data that's available online now can arm us to do just that. Researchers analyzed thousands of users' posts in depression/anxiety forums, even suicidal ideation forums, and found some common patterns in the way depressed people think and, therefore, speak.
Some of the information wouldn't take an algorithm to figure out. Depressed people use a whole lot more negative descriptors — sad, lonely, hopeless. They also talk about themselves more than they talk about other people. (And can you blame them? They're in tremendous mental pain.) But neither of these patterns predicted depression — and its severity — as much as the presence of higher than average "absolutist" words.
As this article in The Conversation reports, "Compared to 19 different control forums […] the prevalence of absolutist words is approximately 50 percent greater in anxiety and depression forums, and approximately 80 percent greater for suicidal ideation forums."
Absolutist words reflect black and white thinking, with no room for nuance: "always, never, nothing, everything, completely," that sort of thing.
Reading that paragraph really hit home with me. When I was depressed, the depression took my perspective along with my happiness. A bad day felt like my whole life was awful. A bad night's sleep seemed like I'd never been well rested in my life. A healthy mind can differentiate between a bad day — or week — and a bad life, but to the depressed mind, the depression has always existed, and will always exist. So it's no surprise that absolutist language shows up at so high a saturation.
This information means two things to me. First, it reminds me not to use black and white language quite so freely. That's not because it's been proven to cause depression (correlation isn't causation), but it rarely reflects the truth about the world, and I'm not surprised it goes hand in hand with despair.
More importantly, this knowledge might tip me off that somebody I care about is carrying around the invisible, but possibly crushing, burden of depression. If we can be on the lookout for this type of black and white thinking when somebody talks, that can be our reminder to reach out. A depressed person can't always ask for what they need, and so it's all the more important that when we offer company, sympathy, and love.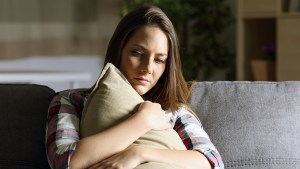 Read more:
Depression: How to recognize and deal with it