At just 10 years old, this little girl has already had her work displayed in exhibitions.
When she was as young as 2 years old, Ekaterina "Kate" Borodulkina began showing a remarkable talent for drawing. Sitting in her high chair, she began exercising her talent by drawing with pencil, and her parents soon enrolled her in an art school for children.
Even before this, however, Kate had already begun showing symptoms of a muscular disease, and by the time she was diagnosed with a form of muscular dystrophy at age 4, she could no longer walk. Now, at 10 years old, she is unable to walk, raise her arms, or breathe without a ventilator. But she continues to paint.
Landscapes and animals are Kate's favorite subjects, and her creations have already been displayed in art exhibitions. With patience and passion, she continues to produce her stunning talents.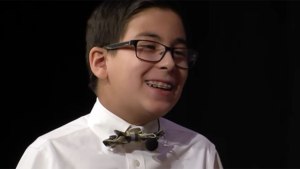 Read more:
The 9-year-old prodigy who wants to prove that God exists