How could have Moses commanded Israel to "save nothing alive that breathes"?
What can God do in your life with one Bible verse a day?
Subscribe to Aleteia's new service and bring Scripture into your morning:
Just one verse each day.
Click to bring God's word to your inbox
Several places in the Old Testament mention the practice of herem—of "devoting" what is conquered to God by slaughter. At its most severe, as in Deuteronomy 20:16, Moses commands Israel to "save nothing alive that breathes." This seems utterly incompatible with the promise God made to Abraham and his descendants that they be a blessing to the nations (cf. Gen 12:3). What, then, are we to make of these commands?
The Exodus from Egypt is paradigmatic of God's action in Israel, and it reveals something of the nation's "need" for herem warfare. Like creation itself in Genesis 1, Israel moves from chaos and lifelessness (in the land of Egypt) toward a place of definitive rest (in the Land of Canaan). Israel's successful passage into the Land, and its ongoing possession of that Land, depend on its fidelity to the covenant Law given at Sinai. Just as creation is formed by God's ordering of chaos, so too the order which the Law provides is what preserves Israel's life and allows her begin to enter into rest. The sin of the Golden calf (Ex 32) and the apostasy at Baal Peor (Num 25) are emblematic of Israel's recurring failure. The nation's distinct identity is always under threat: first by assimilation to the nation she just left, and then by assimilation to the nation who stands at the entrance to the Land. Israel is always tempted to be "just like the nations" (1 Sam 8:5; Ezek 20:32), to forgo her practice of the Law, and so surrender her unique identity and mission. In short, she is tempted always to return to the chaos and lifelessness of "Egypt," wherever that may be in each generation.
It is precisely this need to preserve her unique identity and fidelity to the Law that governs the teaching on war in Deuteronomy. When Israel "draw(s) near to a city to fight against it," says Moses, the first pass is to "offer terms of peace to it" (20:10). Those that refuse this peace—however unequal it be (cf. Dt 20:11)—are to be conquered. In all "the cities that are very far from you" (20:15), the inhabitants are treated as they would be in any conquered city in that period. But in the Promised Land, in those cities "which the LORD your God has given to your for an inheritance" (20:16), Israel is to put all things under "the ban." She is to "save nothing alive that breathes" (20:16), not because these enemies are worse than any other, but because their co-existence in the land threatens the very identity and existence of Israel.  "(Y)ou shall utterly destroy them … that they may not teach you to do according to all their abominable practices which they have done in the service of their gods, and so to sin against the LORD your God" (Dt 20:17-18; cf. Dt 7:1-6).
The command is clear, and yet when we read the scriptural account of the conquest and the period that follows in the books of Joshua and Judges, a curious picture emerges. Places said to have been completely exterminated in Joshua 10 are places against which Israel is again fighting in Judges 1 (i.e. Hebron, Debir, the western hill country, and the Negev). Put simply, the Bible itselfshows us that what is communicated in Joshua is hyperbolic and idealized. It is not "history" in the simple sense we expect.
Read more:
Are there any funny jokes in the Bible?
There are grounds to argue that the command to practice herem is just—"The earth is the Lord's and the fullness thereof; the world, and they that dwell therein" (Ps 24:1)—but making this argument may well miss the point of the text. The writing of history in the Bible is not the same as our own. If we expect a strictly factual account, we will be disappointed, not because Scripture is "wrong" but because it has no intention of supplying that kind of narrative. (Surface-level contradictions within and between books shows this clearly.) The writing of history in Scripture aims rather to show us the deep, governing realities of what takes place.
The conquest of Jericho, the first city to fall in the Land, is, for example, meant to show that Israel's possession of the Land rests not in her military might but in her fidelity to the Law, the heart of which is worship. Jericho falls not by the force of arms but by a liturgical procession. As a book meant to instruct the faithful, the account of the conquest in Joshua serves not as an encyclopedia but a history of what, in truth, led to Israel's eventual, though ever-tenuous possession of the Land. So too the practice of herem is not a command that we have reason to believe was ever carried out in Israel. Its intent, then as now, is to emphasize the absolute priority of preserving one's distinct identity as a member of God's people. To this end, our Lord offered a similarly shocking and similarly rhetorical bit of advice in the Sermon on the Mount: "If your right eye causes you to sin, pluck it out" (Mt 5:29). It is, to put matters simply, a recounting of the past that aims to communicate the full reality of history—not just its facts but so also the unseeable forces at work—and so to shape the living out of the present. The accounts of herem are meant as admonitions to eliminate anything and everything that might distract from full fidelity to Torah. It is, in other words, an admonition to "build a fence around Torah" (m. ʾAbot 1:1), to do more than what is necessary so as to be sure to not transgress what is necessary. "If your right eye causes you to sin, pluck it out" (Mt 5:29), and never again return to "Egypt." It is this, in the end, that will allow Abraham and his descendants to be a blessing to the nations (cf. Gen 12:3)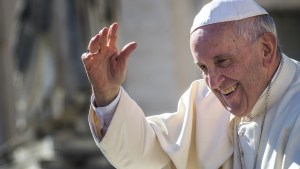 Read more:
Pope says contact with Scripture will bring you two qualities you might need today