We might not often turn to King David as a model beyond prayer, but his life has plenty to teach us.
What can God do in your life with one Bible verse a day?
Subscribe to Aleteia's new service and bring Scripture into your morning:
Just one verse each day.
Click to bring God's word to your inbox
King David is the character in Scripture who moves God to call him "a man after my own heart" (Acts 13:22). How can we make our own hearts into offerings as pleasing to God as David's was?
Here are three points essential to understanding the heart of David to help us shape our own:
1. Respond to God's call
As the Lion, Aslan, says in C.S. Lewis' The Chronicles of Narnia: "You would not have called to me unless I had been calling to you." The Lion, of course, represents God, a reference to the Lion of Judah. Each of us who loves and works to serve God was first called before we ever responded to the call. In other words, following God was not our original impulse, it was inspired.
David was the most unlikely one of his brothers to be chosen as God's anointed king. We have all at times felt unseen, overlooked, or rejected. And then we remember that we are called by Christ, our Good Shepherd. A great line from Scripture that would describe David and was likely written by him: (Psalm 118:22) "The stone which the builders rejected has become the cornerstone."
Jesse had seven elder sons who tried for the honor of being the chosen one before the young shepherd David was brought in and anointed by Samuel.
Takeaway lesson: Answer God's call and don't worry how the world might overlook you. Know that God sees the good you do and that is enough. In the words of Mother Teresa, "In the end it was between you and God. It was never about them anyway."
Read more:
This very common yet harmful vice has become epidemic. Thankfully, there are many ways to fight it.
2. Take on a Goliath
When have you had to stand up as the little guy before a giant obstacle or problem? David killed a giant with a slingshot. As we reflect on David taking on Goliath, there is this passage of Scripture to help us understand his strength.
David has volunteered to kill the giant and Saul protests that he is too young and naive to manage it. "But David said to Saul, 'Your servant has been keeping his father's sheep. When a lion or bear came and carried off a sheep from the flock, I went after it, struck it and rescued the sheep from its mouth. When it turned on me, I seized it by its hair, struck it and killed it. Your servant has killed both the lion and the bear; this uncircumcised Philistine will be like one of them, because he has defied the armies of the living God. The Lord who rescued me from the paw of the lion and the paw of the bear will rescue me from the hand of this Philistine.'"
What trust in the Lord he has, what guts! The artist Elizabeth Jane Gardner Bouguereau painted an unforgettable depiction of this bravery in her masterpiece, The Shepherd David, showing the boy kneeling over the lion he conquered while clutching a lamb he saved, all the while gesturing heavenward to acknowledge that his strength came from God. May we metaphorically do the same.
3. Wait
Some call it patience, others call it just plain hard. But just as we often have to wait for good things to happen, we need to understand the role of waiting as we hopefully are made more perfect. Often, in the words of Jesus, we must say, "my time has not yet come."
Although David was anointed, it took many years before he became king. Before he became king he knew violence, betrayal, hardship and pain. Saul envied David, yet David had an arduous journey. He did not go right from shepherd boy to king. In a similar way, the life and death situations of our lives test and form us and make us ready to be God's servants as David was. Remember, at our baptism we become priest, prophet and king, though it takes a lifetime of hard-tested faith to really embody those roles.
This is how we make our hearts more like David's, and become men and women "after God's heart."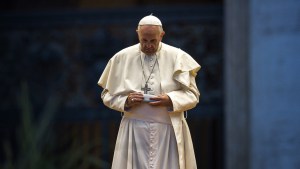 Read more:
Embrace patience as Jesus did, Francis recommends