If you're naturally a jokester, don't think that you can't be a saint!
What can God do in your life with one Bible verse a day?
Subscribe to Aleteia's new service and bring Scripture into your morning:
Just one verse each day.
Click to bring God's word to your inbox
The cause for canonization of G.K. Chesterton may very well be opened soon, according to recent reports. This would delight the many devoted readers of the master of paradox, who find in Chesterton's writing much wit and wisdom.
Let's focus on that phrase for a moment: "wit and wisdom." We often use it to refer generally to a person's collected sayings. But here it is particularly apt, for Chesterton more than most made a habit of combining the two: of conveying deep insights in a way that amused, tickled, and delighted his readers.
Examples abound, so just to use a few:
Art, like morality, consists in drawing the line somewhere.
By experts in poverty I do not mean sociologists, but poor men.
Fallacies do not cease to be fallacies merely because they become fashions.
Merely having an open mind is nothing; the object of opening the mind, as of opening the mouth, is to shut it again on something solid.
The Christian ideal has not been tried and found wanting; it has been found difficult, and left untried.
But some have argued that this proclivity to punning is precisely the reason Chesterton ought not to be raised to the altars and honored with the title of "Saint." Are we in the habit of canonizing comedians?
Read more:
G.K. Chesterton, the clown prince of Catholicism
Chesterton himself anticipated this argument long ago. In the preface to his book Heretics, he wrote about one of his critics, a Mr. McCabe:
Mr. McCabe thinks that I am not serious but only funny, because Mr. McCabe thinks that funny is the opposite of serious. Funny is the opposite of not funny, and of nothing else. The question of whether a man expresses himself in a grotesque or laughable phraseology, or in a stately and restrained phraseology, is not a question of motive or of moral state, it is a question of instinctive language and self-expression. Whether a man chooses to tell the truth in long sentences or short jokes is a problem analogous to whether he chooses to tell the truth in French or German.
We're tempted sometimes to think that if we find the funny side of solemn subjects, we are somehow denigrating them or not properly respecting them. But this is not necessarily so. Certainly we should not mock or belittle important or sacred things, but mockery is the lowest form of humor (and usually not even very funny). Humor comes in finding the unexpected coincidences in life, in God's creation. When the pastor muddles his words and calls Jesus a "shoving leopard" instead of a "loving shepherd," that's funny. When God puts together a beaver and a duck and calls it a platypus, that's funny. And there's no shame in saying so!
And certainly we have a great tradition in the Catholic faith of using humor in all kinds of situations. St. Lawrence of Rome, when commanded by the imperial authorities to bring to them the treasures of the Church, gathered up the poor of the city and said, "Here they are, the treasures of the Church."
Here St. Lawrence was being both funny and quite serious. When the Romans responded to him with the Roman equivalent of throwing tomatoes—roasting him alive on a gridiron—St. Lawrence famously remarked during his own execution, "Turn me over, I'm done on this side." He was hardly mocking his own death; rather, his joke showed courage and hope.
St. Philip Neri was a noted practical joker (as we considered recently), doing things like appearing at important events with half of his beard shaved, or intentionally mispronouncing the words in his homily. This was not done to mock sacred things, but to keep himself and his people humble, to not think too highly of themselves or their place. Having half of his face shaved is no different from having the top of his head shaved, or tonsured—it's a sign of self-humiliation.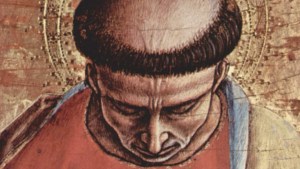 Read more:
Why do monks have strange haircuts?
Pope St. John XXIII also knew how to keep those around him humble. When asked "How many people work in the Vatican?" he replied "About half." Another time, when a reporter asked him if it was true that the Vatican offices were closed and people didn't work then, he replied, "Oh no, the offices are closed in the afternoon, and people don't work in the morning!" No doubt the pope got an extra laugh when his scarlet-clad cooperators in the Vatican bureaucracy read the newspapers the next day!
There is a great connection between humor and humility. Humor can help us to take subjects seriously without taking ourselves seriously. As Chesterton put it, "Angels can fly because they take themselves lightly." Would that we could be like them!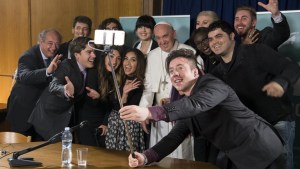 Read more:
Young people, break your mirrors! Know how to laugh at yourselves! Pope Francis recommends