Dear mothers who breastfeed, cherish this time and remember you are strong!
What can God do in your life with one Bible verse a day?
Subscribe to Aleteia's new service and bring Scripture into your morning:
Just one verse each day.
Click to bring God's word to your inbox
Dear moms,
It's 3:00 in the morning and I am writing to you with eyes full of sleep and exhaustion, but certain words seem to only come to the world in the dark, in silence. I just finished feeding my baby, who has now fallen asleep again. I watch her sleep with her arms extended (as if she were reciting the Our Father) and with her lips moist with milk that — in the light of the bedside lamp — looks like a gloss.
My daughter is five months old, and nursing her is beautiful. Recently, however, I had a moment of heavy weariness, a lackluster moment similar to the one I experienced during her first weeks of life. My mother immediately reassured me: "Breastfeeding is tiring, you have to rest!" Who knows how many of you will go through these moments that are so beautiful and intense, yet also tiring.
There are days when I feel emptied, without strength, devoid of all vigor and energy. But thank God, my daughter is growing bigger and stronger. She sucks the best from me. And when during the last visit the pediatrician said to me, "Congratulations, your baby is growing and is healthy. Only your milk, right? Bravo!" I was proud of myself. I thought, "She's growing with my milk. I am filling all those little fat rolls." And then… "No matter if I still have to lose a few pounds, or if I get hungry and I have crazy thirst. She is growing, nourished by me."
Dear mothers who breastfeed, your children are growing thanks to you, who give without worrying about schedules, without interruption, in every place and moment, not holding back and letting yourself be consumed. I congratulate you! You are strong!
Before my daughter was born, I took a really useful pre-delivery course given by a highly experienced midwife. She was so professional, but also ironic and sweet, and she talked to us about breastfeeding for a long time. It was precious advice. I'll list some of her points as I remember them, hoping they can help you:
1. Don't buy a scale to weigh your baby. If you already got one as a gift, exchange it for something else. Otherwise you will become obsessive parents. You will always be weighing the baby, before nursing, after nursing, and that will lead to worries.
2. Breastfeeding is important. It's not always possible to breastfed, but it's certainly desirable, inexpensive, and healthy. In the womb the child finds food, consolation, security, love. Through breastfeeding, mom and baby get to know each other day after day. Along with milk, they bond and exchange special moments together.
3. It's important for your baby to attach well to the breast. But don't be discouraged if you have trouble or if it hurts at first! Ask for help from midwives and lactation experts as needed and keep trying until the baby latches on right. You have to remember that for the baby, there is no better nutrition or type of cuddling.
4. Breastfeed on request, without looking at the clock. Pay no heed to those who reproach you for always nursing your child and "spoiling" him. Follow your instincts.
5. You are back home and the baby cries and cries endlessly. Do not give in to discouragement and anxiety. Even if he has already eaten, the first thing to do is breastfeed again. Hunger knows no timetables.
6. To breastfeed serenely, make yourself comfortable. Find your position, arrange the cushions well, and do not forget to have a bottle of water nearby.
7. Don't worry about breastfeeding wherever you are. On the street, at the supermarket, at the church, at the post office. You are feeding your child. Nobody will be scandalized and even if someone looks at you with annoyance, do not worry!
Let's remember to be grateful for the gift of motherhood and breastfeeding!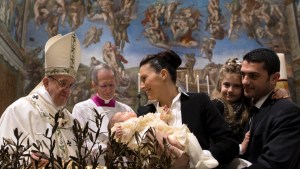 Read more:
Pope Francis' message on breastfeeding in the Sistine Chapel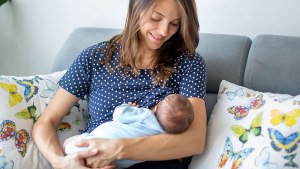 Read more:
The little-known wonders of breastfeeding hormones