Taking a look at Revelation, at what all the symbolism is about, and the message John has for us, in our times too
What can God do in your life with one Bible verse a day?
Subscribe to Aleteia's new service and bring Scripture into your morning:
Just one verse each day.
Click to bring God's word to your inbox
The Book of Revelation is a puzzle, most of the time. The Solemnity of Mary's Assumption, observed August 15, was one of those times.
A young mother with, oh, I don't know how many boys, told me her sons snapped their heads up when the reading from Revelation got to the part featuring a "huge red dragon."
What the heck, she asked, was that?
A great sign appeared in the sky,
a woman clothed with the sun,
with the moon under her feet,
and on her head a crown of twelve stars.
She was with child and
wailed aloud in pain as she labored to give birth.
Then another sign appeared in the sky;
a huge red dragon,
with seven heads and ten horns,
and on its heads were seven diadems.
Its tail swept away a third of the stars
and hurled them down to the earth.
Then the dragon stood before the woman
about to give birth, to devour the child
when she gave birth.
She gave birth to a son, a male child,
destined to rule all the nations with an iron rod.
Her child was caught up to God and his throne.
The woman herself fled into the desert
where she had a place prepared by God.
Then I heard a loud voice in heaven say:
'Now have salvation and power come,
and the Kingdom of our God
and the authority of his Anointed One.'
The first goal in reading Revelation is to read it in the context of history. A persecution of Christians clearly was underway. Whether under Nero (64 AD) or later under Vespasian (AD 69–79), near the conclusion of the First Jewish War (AD 66–73), or even later still, under Domitian (AD 81–96), that is all guesswork.
If we have trouble dating the Revelation to John, we have equal trouble in settling on authorship. The author never claims to be John the Evangelist, author of the Gospel. Perhaps it was another John? John the Presbyter pops up as a possibility. Even the Church Fathers held opposing opinions about authorship. We really don't know. Best to call it John's Revelation and let it go.
We can say the author was a prophet (St. Paul mentions them), speaking in those cryptic prophetic terms about the times he lived in. He believed he had a word from the Lord. So, ultimately, did the rest of the Church — and it was added to the canon of Scripture.
The Church was in peril. Would she survive? That was John's question. His answer is the message of Revelation. As it weaves in and out of its apocalyptic symbols and mysterious imagery the word is: Do not fear. Come whatever, Christ and his Church will endure.
That is what the reading for the Assumption of Mary says. Sure, there's a red dragon and such to figure out. So this is my brief sketch on the imagery that can bring antsy little boys to attention:
The Woman: She is usually identified as Mary, Mother of our Lord. She, a daughter of Israel, bears a crown of twelve stars, likely a picture of Twelve Tribes of Israel. She is relentlessly pursued by the
Red Dragon: A dragon (of whatever color) is always chaos. It is that power out to make a mess of peace, order, tranquility, and safe repose — what God seeks for his Church. Personally, I can see this dragon in a zap 'em up video game, shooting lasers at everything he hates.
Ten Heads, Seven Horns, Ten Diadems: This isn't Pete's Dragon; this is one ugly dragon. If dragons have nightmares, this is the dragon they see: frightening, ferociously chasing one young, helpless, small pregnant woman. Diadems represent power and presumed sovereignty. Seven and ten, as biblical numbers, indicate completion, finality, fullness. So this dragon has it all and the kingdoms of the world lay bare before his feet. The Red Dragon possesses great power. What will save the Church in this, the worst of times?
You know the rest. The woman gives birth; her son is caught up to God and his throne; the woman flees to a place prepared by God; and now, cracks a voice in heaven, comes the salvation and power of God's Anointed One.
This is the message of the Revelation to John for his time. I would guess it has something to say to these times as well.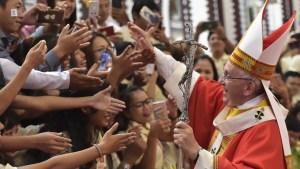 Read more:
Just 2 min a day with the Gospels, and your life will change, says Francis