As bishops and ordinary Catholics call for more lay involvement in investigating and preventing abuse, men's organization steps forward.
What can God do in your life with one Bible verse a day?
Subscribe to Aleteia's new service and bring Scripture into your morning:
Just one verse each day.
Click to bring God's word to your inbox
The Church has been sent into convulsions with the current crisis, and the "disgrace not only is borne by the perpetrators," but "hurts us all, as does the silence of shepherds who have ignored the cries of their flocks."
Thus reflects the leader of the Knights of Columbus, a worldwide men's organization well known around the globe for its practical and monetary response to a range of situations and natural disasters and crises.
The leader of the organization, Supreme Knight Carl Anderson, said in a letter to Knights and chaplains that "the Knights of Columbus — laymen, priests and chaplains together — will have an important role to play in rebuilding the Church."
He said the organization's members must be committed to work for repentance, reform and rebuilding.
Regarding repentance, Anderson called for a "full accounting of the misdeeds."
Referring specifically to ex-cardinal Theodore McCarrick and other abusers, he said, "After years of having us confess to them, it is now time for them to come clean about what they have done and what they have failed to do."
Anderson added that priests who don't live celibacy have to be removed "not out of retribution, but for the protection of the faithful and to prevent future variations of the scandal we now suffer."
Reform, said Anderson, should include many of the ideas being circulated, including investigation by independent commissions that include laity, an expansion of the zero tolerance policy to include bishops, as well as an "independent ethics hotline for reporting of criminal and other conduct at odds with Catholic teaching," and protections against retaliation.
"Such reforms will be difficult for a Church largely unused to them, and we must support our bishops and our priests in embracing these reforms in order to rebuild," he said.
Speaking also of the spiritual elements involved in rebuilding, the Supreme Knight called for charity, the need for saints, and, specifically, a Novena of Masses in reparation for these sins that have so grievously wounded the Body of Christ."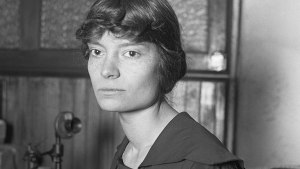 Read more:
Dorothy Day, Bishops, and the Church
As well, he said that a national tour of a relic of St. John Vianney, patron of priests, would be organized, and that the Knights would continue their work in building up families and parishes.
"Now is the time for all brother Knights to stand steadfast in faith, as Catholics and as gentlemen. We will assist priests, bishops and our fellow Catholics in helping the Church chart a course for the future that puts Christ at the center, so that truly we may say, 'Thy will be done on earth as it is in heaven.'"
Anderson continued:
This is the moment in which Knights — including in a special way our priest members — can be part of a great renewal for good in our Church. And as we strive to follow the Lord more closely in the days ahead, may he deliver us from every evil and in his mercy graciously grant his Church peace and unity. … [K]now that your faithful witness and sacrifice can bring inspiration and hope to millions of your fellow Catholics. It will be needed in the days ahead more than ever before.
See the full letter here.