FOCUS missionaries are now building relationships and converting souls in college campuses throughout Europe.
What can God do in your life with one Bible verse a day?
Subscribe to Aleteia's new service and bring Scripture into your morning:
Just one verse each day.
Click to bring God's word to your inbox
A few hundred years ago European missionaries came to the United States to plant the seeds of faith on a foreign soil. Now in the 21st century, missionaries from the United States are returning to Europe to revitalize the Catholic faith, especially among young people.
Recently Aleteia was able to interview John Merkle, Regional Director in Europe for the Fellowship of Catholic University Students (FOCUS), a fast-growing organization that has been successfully spreading the Gospel throughout the United States and is currently based in Denver, Colorado.
First of all, can you give me a brief summary of what FOCUS is and its primary mission?
John Merkle: FOCUS is a lay missionary organization that trains recent college graduates and sends them onto college campuses to encounter students and walk with them in friendship to a deep and fruitful relationship with Jesus Christ and the Church. Our primary mission is to know Jesus and fulfill His Great Commission, to make disciples of all nations. We do this by living the method that He modeled for us in Scripture, where He spent three years investing deeply in a relative few before sending them to the ends of the earth to do the same. Our missionaries seek to imitate this way with students on campus as there is no better time or place for this than college, and no more influential group of people on earth than college students and the future men and women they will become. Beginning 20 years ago on one campus with just a handful of missionaries, today FOCUS has nearly 700 missionaries on 153 campuses in five countries and tens of thousands of alumni.
Following the success of FOCUS in the United States, how is it being received in Ireland and Europe?
We find cause for great hope in Europe. While it is true that Europe is a bit farther away from its Christian roots, we find a beautiful openness in the students we encounter and they are responding genuinely and generously to Christ. Many have had questions about God and faith for much of their lives, but no one has walked with them. We have seen many students return to the sacraments after years away, come alive in their faith, and even begin to live as missionary disciples sharing the joy they have found with their peers. The Holy Spirit is alive and well and has clearly been preparing the way for us and opening hearts.
Do you face the same challenges here, or are they different than in the United States?
A bit of both actually! The most obvious challenge would be culture; each European country is very different from the United States and different from one another. Learning to enter into a culture and sharing the Gospel from a genuine place of encounter within takes time, patience and love. Our Austrian and German missionaries have had to learn German, and it has been incredible to see the fruits of their love in vibrant communities and Bible studies that are now being led in German by missionaries and students. European universities are structured differently. They don't have big on-campus dorms, they can be spread throughout a city instead of centralized on one campus, and the pace of life and study for students varies a lot from country to country. We face the same social, moral, and relational challenges that exist everywhere. I would say that with all of these things, the human similarities are the most significant and they are what we really lean into. People are people. We all desire to be known and loved and that is where our mission begins, in relationship. Everyone is made to know and encounter God. Everyone is seeking truth, goodness and beauty. The reason why our mission is bearing fruit in Europe is that this mission is universal and the human heart is made for communion with God and others. There were concerns that our model is "American" and would not work in Europe, but really, it is Christian and can work in any place. Any Christian can learn to love and lead a few people in their life to fruitfulness.
What is the current faith life of college students in Ireland and Europe? Do you only minister to students who were raised Catholic?
Every student's background, upbringing, and current faith life is different and we reach out to all people. We desire to share what we have with anyone who is open to us and have all sorts of students involved in our ministry. Often, students in Ireland have not practiced their faith since confirmation in grade school and would not describe themselves as "religious." Even so, we find that they usually have unanswered questions and a genuine desire to know the truth, and when we make space for those conversations, beautiful things happen. When people encounter God in authentic Christian community, prayer, the sacraments and Scripture, beautiful things happen.
Are the missionaries here from the United States, or are you starting to recruit missionaries from their native countries?
Our missionaries currently serving in Europe are all from the United States. As our mission matures here, we do hope to and need to raise up local missionaries and we have already begun to do so.
In light of the World Meeting of Families, what is the culture among students — do they hope to raise a family, or is that something they don't think about?
I think at the heart of things, raising a family is definitely something students desire and do think about. We see this in the students we get to actually walk with. Not everyone has had the best experiences in family life, but when you ask a student who they want to be and how they want to be remembered, they often put things in terms of being a good person/husband/wife/father/mother/friend. They desire real sacrificial love which happens so concretely in family life. They desire deeper and better relationships and a joy more lasting than the fleeting and superficial pleasures they are offered. The world would have you believe otherwise, but students are not satisfied with what the world is giving them.
Do you have any other comments about FOCUS, or the future of the family in Ireland and Europe?
There can be a temptation to discouragement given recent global events regarding marriage, family and sexuality. We are encouraged and find great hope in the transformed lives we are blessed to see in our mission every day. The more young people are evangelized and energized and alive in Christ, the more we will see transformation in all of their relationships, in the lives of their friends and family members, and an ever-growing transformation in culture. The family is of the utmost importance. As Pope St John Paul II said and has been echoed many times in this World Meeting, "as the family goes, so goes the nation and the whole world in which we live." One of the greatest blessings of FOCUS in the United States has been the thousands of marriages that have come about through students and missionaries who are in love with God and seeking to live the Catholic faith fully and dynamically within their families. There is no reason to doubt that we will see the same thing in happen in Europe. This begins slowly, but it is only a matter of time until these families have a massive impact on the world, an impact that bears the image of the self-giving love of the Trinity found in the family.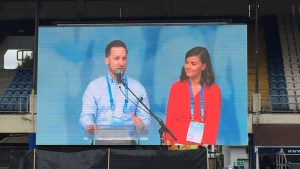 Read more:
Inspirational testimonies by Irish youth give hope to the world