Praying in a public place can lead to interesting conversations and connections.
People are praying around us every day, including in public spaces — for example, when we're commuting, whether in a car or on buses, trams, subways, or on a train. Most people do it very discreetly, so it's hard to notice sometimes, but there are other times when other passengers find out.
This happened to me on a recent sunny day in Warsaw, in the early afternoon hours when most people are still at work. It's the time when traffic is light and seats on public transportation are plentiful.
A man was sitting in the back of the tram, his left hand against the window pane, his gaze uninterestedly watching the passing streets. At first glance, one could think that he was simply bored, or maybe sleep deprived. Only after a moment of observation, a small rosary hidden in his left hand could be seen: 10 wooden beads wrapped around his thumb. The man probably didn't want to be too obvious in public. He was deep into a different reality, and not the one that our ubiquitous smartphones offer. Yes, he looked like he was from a different era. Maybe that's why he was so fascinating.
The fact is, there are more and more situations like this in certain big European cities. People, even young ones, can be seen praying the Rosary in public places. But what happened on the tram I was in doesn't happen very often.
Would you pray for me?
A young man entered the tram at one of the stops. He was even younger than the one sitting in the back, praying the Rosary. He had a somewhat distracted gaze, longer hair, and a friendly appearance. He glanced at the man discreetly praying in the back, and sat down in the seat in front of him. He kept looking at the man behind him, trying to do so inconspicuously by looking sideways, and then as if by accident looking behind him, as if to make sure he had seen right the first time. Was the guy behind him really praying?
"Excuse me," he said, finally turning around to look the man behind him in the eyes.
"Yes?" responded the man kindly.
"I've never seen anyone praying on the tram," he continued.
The man only smiled gently, as if slightly embarrassed.
"You know, …"
"I'm Simon."
"You know, Simon … I'd like to ask you …" It was apparent the young man was having trouble expressing his wish. "Would you pray for me?"
"Sure." This time the man in the back smiled broadly. "For what?"
"Well, you see … I met this girl not long ago. We sing together in the church choir. I don't know if anything is going to happen between us. I asked her out for coffee twice already. And I'm thinking," here he got embarrassed again, "that she's a really great girl."
"And you'd like me to pray for your intention? For that new relationship, right?" It was becoming evident that the entire story fascinated the man more and more.
"Yes, yes. Something like that." The young man looked like a weight has been lifted off him. He had said what he wanted; now he could smile.
"What's your name? And the girl's?"
"I'm Peter. Her name is Anna."
The extraordinary hidden among the ordinary
It was a short conversation, lasting less than two minutes, in an ordinary Warsaw tram. It was one of the bright little miracles illuminating the city, a light shining so much more brightly than the hot sun outdoors that day. Normal abnormality. Ordinary yet exceptional.
"Excuse me again," said the young man, turning around again. His face showed he remembered something else.
"If you want, I could pray for you, too."
"Really? That'd be great! Thank you."
"I have to run now," the boy said with a smile. A little stressed before, he now seemed totally calm. He had stayed on the tram two stops too far in order to have this conversation.
"Blessed day!" called the man with the rosary after the man disappearing through the door.
Now we could continue, in a very different mood. This world will not die easily.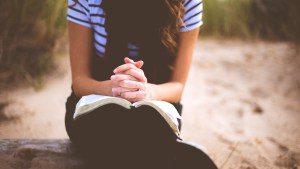 Read more:
Simple ways to find time for prayer when you're 'too busy'
Read more:
The Rosary: Where it Came From and Why We Need it Now More than Ever