What's that she's doing? Oh, just calmly hammering the devil's head in.
Even when it's uncomplicated, pregnancy is no walk in the park. And childbirth? Childbirth is miraculous and rewarding, and totally worth it, but it's also a little bit terrifying. Luckily for us, we have about the most hardcore patron saint imaginable, and she's more than up to the challenge.
Meet St. Margaret of Antioch, known in the east as St. Marina: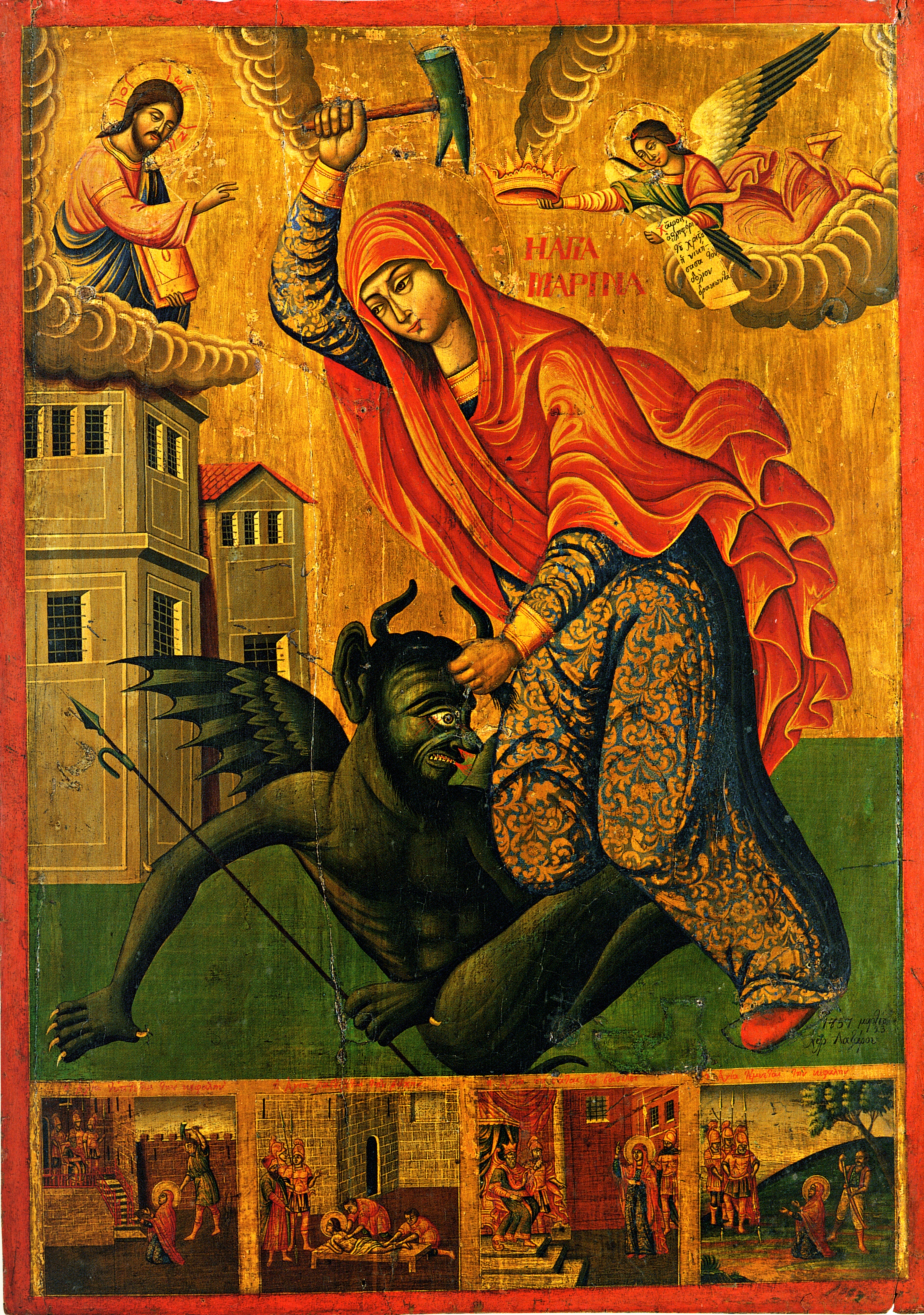 What's that she's doing? Oh, just calmly hammering the devil's head in, no big deal. (Zoom in, and yes, that is blood coming out of his eyeballs.) Jesus seems to be cheering her on.
St. Margaret is one of those saints whose story is so wrapped up in legend that the hagiographies start including disclaimers — like, how the part about the devil disguised as a dragon swallowing her whole was probably more of a metaphor than a historical occurrence. In some stories, she makes the sign of the cross as he's about to gulp her down, and he disappears on the spot. In my favorite version, the crucifix she's holding when he swallows her irritates his belly, and breaks him open from the inside.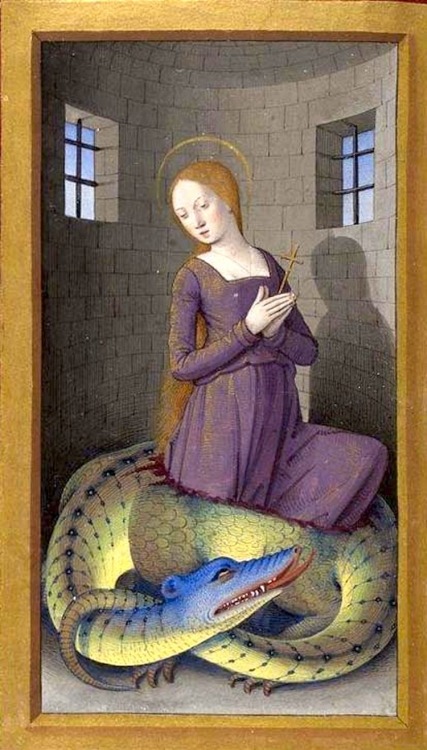 She doesn't seem terribly impressed. "Oh honey," she is saying, "I can't believe you actually thought that was going to work." The devil is looking like he regrets choosing that particular course of action.
In a surprising numberofdepictions…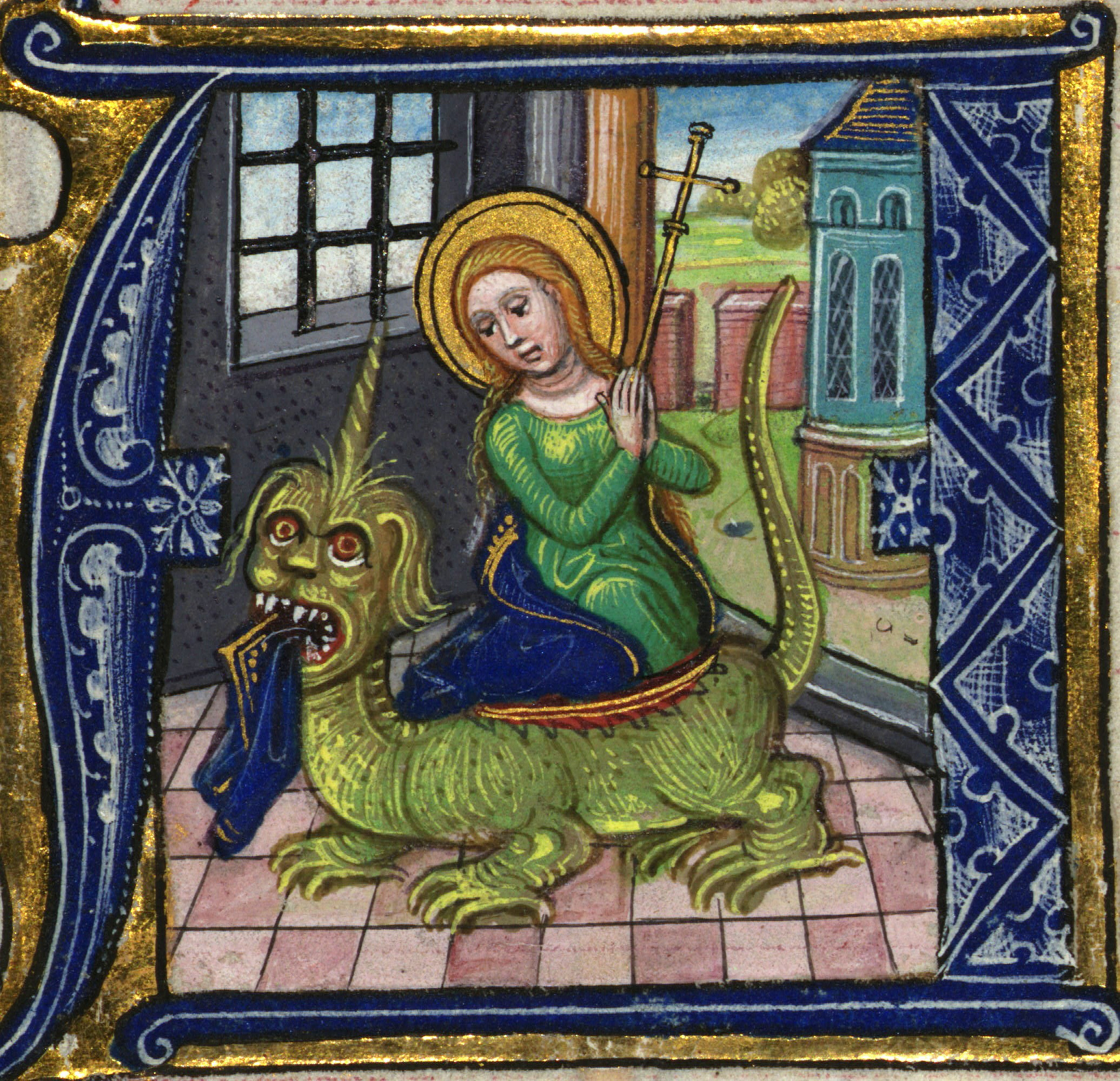 … the poor guy hasn't even finished swallowing her, when surprise! Out she comes, looking calm and just maybe wearing the tiniest smirk.
Legends aside, what do we actually know about St. Margaret? Not a lot. She was one of the martyrs of the Diocletian Persecution, and died in the early 300s, martyred, after much torturing, for refusing to break her vow of virginity and marry a Roman official. It was in prison, after she'd been beaten badly, that the devil is said to have paid her a visit — first as a dragon (and we know how that turned out), and next as a man — whom she promptly grabbed by the hair, and started beating with a hammer. (Get him, St. Margaret!)
It was in the Middle Ages, when the black plague was rampaging through Europe, that devotion to her really began to spread. She's part of a group of the saints known as the Fourteen Holy Helpers, whose intercession was thought to be particularly powerful, and she's one of the saints who spoke to St. Joan of Arc. As her reputation as an intercessor grew, it's no surprise that people started praying to her about the scariest things in their lives. I don't know about you, but for me, pregnancy and childbirth are way up there on the list. Way, way up there.
And St. Margaret just seems to make scary things seem small.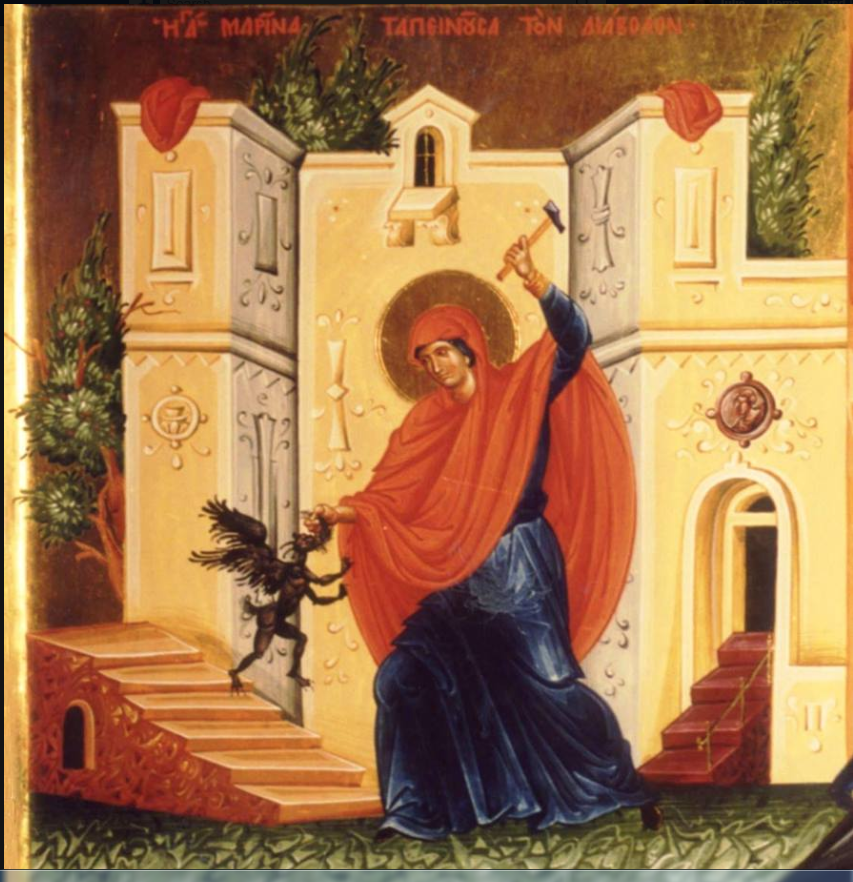 Look at that little guy. You don't find yourself wondering who's going to win the fight, right? St Margaret can clearly handle it.
St. Margaret was a virgin, and died around the age of 15, so she doesn't seem like the logical choice to take special care of us during our pregnancy and labor. But the more I think about it, the more sense it makes. Don't the worst of our troubles come from the devil in one way or another? He was there when we were exiled from Eden, and he's still hanging around. Without him in the picture, everything gets easier.
St. Margaret seems like the right person to send him packing.