Jesus and the Old Testament prophets taught others how to expel powerful demonic influences.
What can God do in your life with one Bible verse a day?
Subscribe to Aleteia's new service and bring Scripture into your morning:
Just one verse each day.
Click to bring God's word to your inbox
In the Gospel of Mark, Jesus' disciples are having a hard time expelling a powerful evil spirit. Jesus intervenes and commands the spirit to depart from the individual, saying, "You dumb and deaf spirit, I command you, come out of him, and never enter him again" (Mark 9:25).
The unclean spirit leaves and Jesus' disciples ask, "Why could we not cast it out?" (Mark 9:28)
Jesus proclaims, "This kind cannot be driven out by anything but prayer and fasting" (Mark 9:29).
These words come straight from God himself and is not something new. God has always been imploring his followers to use prayer and fasting as a means to expel the presence of evil.
For example, in the book of Tobit, Raphael the Archangel explains to Tobit, "Do good, and evil will not overtake you. Prayer is good when accompanied by fasting, almsgiving, and righteousness" (Tobit 12:7-8).
Similarly in the book of Daniel, the prophet explains what he did in response to the sins of the people, "Then I turned my face to the Lord God, seeking him by prayer and supplications with fasting and sackcloth and ashes" (Daniel 9:3).
When the prophet Jonah was sent by God to Nineveh to call them to repentance, the king announced, "Let neither man nor beast, herd nor flock, taste anything; let them not feed, or drink water, but let man and beast be covered with sackcloth, and let them cry mightily to God" (Jonah 3:7-8). In response to their prayer, fasting and righteousness, God did not let evil destroy the city.
It appears that our prayers are amplified in some way when they are accompanied by fasting and a contrite heart. In particular, fasting is a type of sacrifice that heals our souls and makes them better disposed to receiving the graces of God. As Pope Paul VI explains in Paenitemini, "Through 'corporal fasting' man regains strength and the 'wound inflicted on the dignity of our nature by intemperance is cured by the medicine of a salutary abstinence.'"
Furthermore, because of the spiritual power hidden in fasting, it becomes an effective weapon against evil spirits. Saint John Vianney, who had many personal encounters with the devil, wrote, "That which beats him is the curtailment of one's food, drink and sleep. There is nothing the devil fears more, consequently, nothing is more pleasing to God."
When our prayers do not seem to be working and evil continues to increase in our lives, Jesus invites us to "prayer and fasting" to expel the dark forces that are trying to influence us. It requires conversion and sacrifice, uniting us more closely to the supreme sacrifice of Jesus on the cross.
The greatest evil on earth was defeated by the suffering and death of Jesus, who offered himself as a sacrifice on Mount Calvary. Whenever we imitate that sacrifice through our own prayer and fasting, we remind the devil of the cross, something that he can not stand.
Read more:
A prayer of exorcism taught by Saint Anthony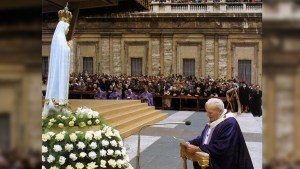 Read more:
Prayer for Deliverance from Evil by St. John Paul II