Just as John Paul II strongly condemned the mafia and warned of God's judgement, Francis brings same message
Pope Francis is preparing to travel to Sicily on September 15, to honor Father Giuseppe Puglisi, who was assassinated a few months after Pope John Paul II's visit in 1993. "Convert! God's judgment will come!" the Polish pontiff had forcefully declared to the local Mafia.
After having visited Sicily for the first time in September 1982 for two days, Pope John Paul II returned, this time for three days, from May 8 to May 10, 1993. On the evening of the first day, the pope went to Agrigento, south of Sicily, where young people performed a show in the form of Greek tragedy evoking the misdeeds of the mafia.
"Those who carry so many human victims on their conscience, must understand that it is not allowed to kill innocent people!" the pontiff firmly declared the following day at the end of the Eucharistic celebration. Karol Wojtyla then pronounced a real condemnation of the mafia, responsible for 126 murders in Sicily since the beginning of that year. The previous year, two Italian anti-Mafia judges Giovanni Falcone and Paolo Borsellino had also been murdered.
"God once said, 'You shall not kill': no man, no human association, no mafia, can change and trample on this most holy right of God!" exclaimed the Polish pontiff, to the cheers of the crowd. "I say to those responsible: Be converted! One day, God's judgment will come!"
These remarks are reminiscent of those spoken with firmness by Pope Francis in June 2014 in Calabria when he said that Mafiosos were not "in communion with God," but that they were "excommunicated."
"The N'drangheta," decried the pope, "is the adoration of evil."
Read more:
Vatican seeks excommunication process for those involved in corruption, mafia
Resume "the path of conversion"
On the evening of May 9, John Paul II began the last leg of his visit, Caltanissetta, where he received the widow of Judge Borsellino and the parents of Rosario Civitano, another mafia judge, who was killed in September 1990.
Lastly, he celebrated a Mass in that city in the heart of Sicily on May 10, before visiting the local prison. His audience was made up mostly of mafia prisoners, and he continued his call for conversion.
Christ "overcomes every human injustice; with his mercy, he overcomes evil and sin," he said. "This certainty makes the human heart bring forth the energy necessary to resume every day the path of conversion." Words that aroused strong applause among the detainees.
Only a few months after this pastoral trip, on September 15, 1993, Father Giuseppe Puglisi, a priest committed to working against the Mafia, was killed.
On his way to Sicily on the anniversary of his death, Pope Francis, following John Paul II, will honor all the victims of the Mafia.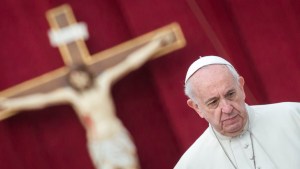 Read more:
3 Times Pope Francis warned about Hell