Coping for a time isn't enough ...
"Lord, I want to see!" That simple statement in the Gospel of Luke (Luke 18:41) might make some people blush with shame. Why? Because so many people instead speak from their heart: "I'm just going to peek!"; "Just this once!"; "Just one more!"; or "I will look when no one else is watching!" These poor souls are caught in the grip of a compulsion towards pornography. Can faith and science help those with this struggle?
Meet Steve Pokorny, author of Redeemed Vision: Setting the Blind Free from the Pornified Culture, and founder of Freedom Coaching, a one-on-one mentoring system designed to break the attraction to pornified images. I had the good fortune of interviewing him on The Catholic Currentrecently. (The audio and reading list from the interview are HERE. The audio as a downloadable file is HERE.)
Equipped with degrees in theology and psychology, as well as candor regarding the struggles he himself has overcome, Pokorny offers hope, vision, and a new way of life to those who are bordering on despair. While there is much sound advice and many resources available to those who struggle with what Pokorny calls "pornified images," including filtering and accountability software, support groups, therapy, spiritual direction, etc., he insists that taken alone, or even in a group, they are likely to be insufficient. What is missing?
"These techniques don't solve the problem; often they become mere coping mechanisms, enabling a person to merely get by for a period of time," Pokorny insists. "The reason most people with an attachment to pornography don't experience sustained, lasting freedom is they've never learned how to attain healthy forms of intimacy. This is only possible through receiving a redeemed view of the human body. While from a Christian theological perspective ultimate perfection and purity of vision will only be attained in heaven, we firmly believe (and have experienced it ourselves) Jesus Christ wants more for us in this life than mere coping mechanisms – 'for FREEDOM'S sake Christ has set us free' (Galatians 5:1)! His grace can make it possible for men and women to experience a 'redeemed vision' in a greater capacity than is typically assumed to be possible."
I was tempted to ask, "What does 'redeemed vision' look like?" Perhaps it would be better to ask, "How does 'redeemed vision' look, and what does 'redeemed vision' see?" Pokorny addresses the issue by quoting Most. Rev. Paul Loverde, Bishop-Emeritus of the Diocese of Arlington, Virginia: "Our natural vision in this world is the model for supernatural vision in the next. Once we have distorted or damaged that template, how will we understand the reality? Our Lord has given us the gift of sight with the intention that we may see Him."
Pokorny goes on to say that the root problem of porn-consumption (something that the individual consumes even as it consumes the individual) is a need to heal our vision of the human body. Before their sin, Adam and Eve were "naked and not ashamed." (Genesis 2:25) They could look upon each other with innocence, seeing that they were made by God and for God; they were made to complement each other; they were made good and beautiful. Sin poisoned their sight, and they began to look at each other with lust, as objects, rather than as subjects of reverence and wonder.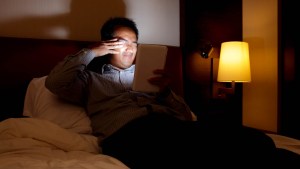 Read more:
What to do when you can't "unsee" pornography
Pokorny insists that people can retrain the brain to see the body as God has created it: "Slowly, the roots of our false desire for pornified images will be replaced with the God-given desire for love and real beauty." In fact, Pokorny insists that we must "plunge into beauty."
That reminded me of a wedding reception I attended. Musicians came to each table and asked for a song request. An elderly gentleman asked for a love song. Then he took the hands of his wife of 50 years, and, with tears streaming down his face, said to her over and over, "For you … for you … for you …" She answered him with the silent but eloquent light of her eyes. This wonderful couple had learned to see as God has intended all of us to see—to "plunge into beauty" with gratitude, reverence and love. This couple knew that as they looked upon each other, they were standing upon the threshold of holy ground, preparing to see the face of God and live.
This couple illustrated the good fruits of what Pokorny advises. He reminds us that the lasting healing that is needed is a liberation from porn that can only be achieved by the redemptive work of Christ. Christ took upon himself our human nature to healing all of it. Bringing our sin and wounds to him, our vision can be redeemed.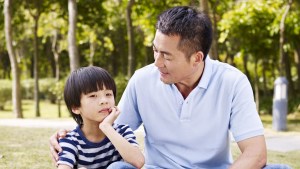 Read more:
What I told my 7-year-old when he asked what porn was
When I write next, I will speak of how persecuted Christians are being overlooked and how we can help them. Until then, let's keep each other in prayer.