Our dream of being Jesus' special friend has been pushed away too often by another dream.
What can God do in your life with one Bible verse a day?
Subscribe to Aleteia's new service and bring Scripture into your morning:
Just one verse each day.
Click to bring God's word to your inbox
Human beings are dreamers.
We are always wanting to be a better version of ourselves —  and more than that, we are good at convincing ourselves that we are the dream. That new blouse looks amazing when we try it on in the store, but not as great at home, and we imagine our job is the linchpin on which our company's future turns, until we leave and the company does just fine without us.
The same thing happens in the spiritual life. But on the 28th Sunday in Ordinary Time, Year B, Jesus insists that we give up the dream and see who we are in reality.
We are probably pretty sure we can run up to Jesus at any point and be embraced.
We think of our relationship with Jesus in exactly the way the "rich young man" in the Gospel does.
When the young man asks Jesus how to attain eternal life, Jesus lists commandments he must follow. The young man says he has fulfilled them. We have too. We are not murderers, adulterers, thieves, liars, or swindlers. We haven't  abandoned our parents.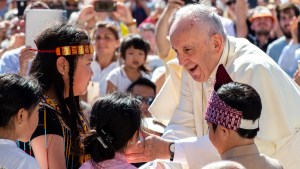 Read more:
Pope points out what God says BEFORE he gives the Commandments
But then Jesus calls our bluff. He tells the rich young man: "You are lacking in one thing. Go, sell what you have, and give it to the poor, and you will have treasure in heaven; then come, follow me."
That is when the real young man emerges. "At that statement his face fell, and he went away sad, for he had many possessions."
The truth is, our dream of being Jesus' special friend has been pushed away too often by another dream.
We are constantly thinking of what kind of person we could be that's better than what we are. Usually, though, that means we think of being the kind of person who is more attractive, more important, and more "with it" than others.
But the more we follow that kind of dream about ourselves — the more "possessions" we amass —  the further we are from being Jesus' special friend. Jesus doesn't actually want the "dream you." He's seeking out the real you, stripped of "possessions," be they material or only masks in your mind, so that he can bring the real you to be with him for eternity.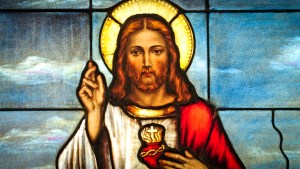 Read more:
Discover 4 elements of honest prayer from Jesus himself
"How hard it is for those who have wealth to enter the kingdom of God!" says Jesus.
As proof that the rich young man is just like us, the apostles react strongly to Jesus. If people like us can't get to heaven, "Then who can be saved?" they ask.
"For human beings it is impossible," says Jesus, "but not for God. All things are possible for God."
God can help us stop living for things that don't last.
How does God make this possible? First, by giving us wisdom.
It would be silly to spend huge sums of money on something that is broken-down and ready to throw away. We wouldn't spend hundreds of dollars on a 12-year-old smartphone, or thousands of dollars on a 1994 Ford Taurus, and we wouldn't buy a washing machine that leaks.
But we do that all the time in our dreams of bettering ourselves. The first reading, from the Book of Wisdom, lists all the broken-down things we prefer to wisdom:  Power and position ("scepter and throne"), money ("gold" and "silver"), fitness and attractiveness ("health and comeliness").
Wisdom is better than all of them: "the splendor of her never yields."
But wisdom alone is not enough.
The words of praise for wisdom in the first reading are taken from what is sometimes called "The Wisdom of Solomon." Solomon chose wisdom over everything, and the First Book of Kings calls him the wisest human being ever. But, ultimately, it was not enough. Solomon died disgraced, having rejected God and fallen into idolatry and immoral relationships.
It is the same with us: Wisdom is greater than all those false dreams about ourselves. But if wisdom just gives us a better dream, then it still fails us.
Wisdom needs to be accompanied by humility: We have to ruthlessly see our own shortcomings.
We can only do that by meeting Jesus Christ in the Scriptures. "The word of God is living and effective, sharper than any two-edged sword," it says, "penetrating even between soul and spirit, joints and marrow, and able to discern reflections and thoughts of the heart."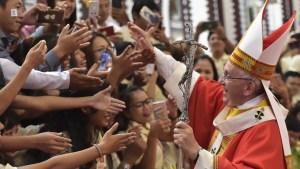 Read more:
Just 2 min a day with the Gospels, and your life will change, says Francis
When the rich young man faced Jesus on the road, he was facing him for the first time. We shouldn't make that mistake. The time we will meet Jesus face to face the way this young man did will probably be when we die, and that would be a terrible time to discover that we have built up layers of self-deception. We can have the life-giving encounter with God ahead of time, through prayer, sacraments and Scripture.
"No creature is concealed from him," says the reading, "but everything is naked and exposed to the eyes of him to whom we must render an account."
The dream will die when we die. All that will be left is who we really are.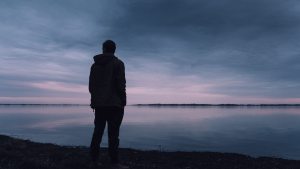 Read more:
12 Deathbed regrets you still have time to avoid