May your words become my own: "Whatever God wants."
St. Gianna Beretta Molla was an Italian pediatrician. Born in October 1922, she  was the 10th of 13 children.
In 1942, Gianna started medical school in Milan. As a member of the St. Vincent de Paul Society, Gianna applied her faith in a charitable service for the elderly and needy. She received degrees in both medicine and surgery. and in 1950 she opened a medical office, specializing in pediatrics. She was especially drawn toward mothers, babies, the elderly and the poor. She worked with Catholic Action, a movement of lay Catholics dedicated to living and spreading the teaching of the Catholic Church.
In 1955, Gianna married Pietro Molla. She wrote, "Love is the most beautiful sentiment that the Lord has put into the soul of men and women." She considered marriage a gift from God and dedicated herself to "forming a truly Christian family." Over the next four years the couple had three children.
Read more:
This patroness of mothers and families is proof that marriage is a path to sanctity
During her fourth pregnancy, Gianna was struck with an unbearable pain, and doctors discovered she had developed a fibroma in her uterus.  Doctors gave her three choices: an abortion, which would save her life and allow her to continue to have children, but take the life of the child she carried; a complete hysterectomy, which would preserve her life, but cause the unborn child to die, and prevent further pregnancy; or removal of only the fibroma, with the potential of further complications, which could save the life of them both.
Wanting to protect her child's life, Gianna chose only removal of the fibroma.  She was open to the possibility of giving her own life to save the life of her child.  She pleaded with the surgeons to save her child's life over her own. The baby survived the operation, although complications continued throughout her pregnancy.
A few days before the baby's birth, Gianna prayed for God to take any pain away from the child. She was clear about her wishes, expressing to her family, "If you must decide between me and the child, do not hesitate: Choose the child! I insist on it. Save the baby."
On April 21, 1962, Gianna Emanuela Molla was born. The doctors tried many different treatments and procedures to ensure both lives would be saved. However,  a week after the baby was born, Gianna passed away from septic peritonitis.
Gianna was beatified by Pope John Paul II on April 24, 1994, and officially canonized as a saint in May 2004. Her husband and children, including Gianna Emanuela, attended the canonization.
~
In 2003, Elizabeth Comparini experienced a tear in her placenta when she was 16 weeks pregnant. Her womb was drained of all amniotic fluid. She was told the chance of her baby's survival was little to none. Elizabeth prayed to Gianna Molla, asking for her intercession. She gave birth to a healthy baby.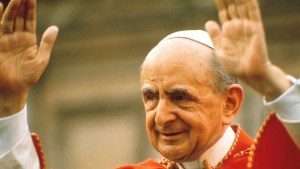 Read more:
What Paul VI's miracle for the unborn means for the Church
Around the world today, mother's with complicated pregnancies pray for St. Gianna's intercession:
Patron Saint of Mothers, Physicians, and Preborn Children,O compassionate Saint Gianna,physician and caregiver to the poor, the elderly,to children and expectant mothers,look lovingly upon my humble prayer,and intercede for me with our Heavenly Father.As a dedicated wife and mother,you imitated the love of our Savior, Jesus Christ,even to the point of giving your life to savethe life of your preborn child.Ask the Holy Spirit, I pray, to fill me with courage,so that your words may become my own:"Whatever God wants."If it is in God's loving plan for me,pray that my intention may be granted(make your request here).Amen.
Read more:
Chiara Corbella: Is the Church about to have another St. Gianna?