We thought it was just a pretty kitchen tool ... we were wrong.
Two days before our wedding, Joseph and I opened one of our first wedding gifts. It was a bowl from Joseph's Aunt Kathleen and Uncle Joel. The bowl was made of sturdy glass with orange, red and yellow flecks throughout. But it wasn't until we opened up the letter that came with the gift that we realized that this was more than just a bowl to fill with salad or put away in a cupboard.
The letter told the story of how a 1995 trip to Hawaii started a marriage tradition in Kathleen and Joel's family. On the trip, the two were searching for a place to buy their wedding rings before the ceremony. But something didn't feel quite right. Neither of them mentioned the unsettled feeling to the other though, and they continued along their trip, stopping in at shops in-between seeing the beauty of the island.
One of the highlights of the trip was a hike through the Waimea Canyon. They explored the beautiful nature that Hawaii offered, enjoying each plant, fruit and scene to its fullest thanks to a local guide named Les. All throughout their hike, they thought about the wedding rings, but still did not feel at peace about the upcoming purchase.
They spent the day in the canyon learning more than just about nature, though. Both Kathleen and Joel said the hike revealed quite a bit about themselves as a couple, too. In the letter, they wrote that the day was filled with "knowledge, entertainment, laughter, directions, respect, compassion, risk-taking, spontaneity, beauty, amazement, gratitude, patience and nourishment. These were the same aspects we identified as being important in our marriage." Instead of thinking about wedding rings, they found themselves realizing the important aspects of their relationship and marriage.
Inspired by the beauty of the island, Kathleen had an idea. When they had visited their guide's home, they'd been amazed at all of the incredible woodwork art creations he made from the resources of the island. Kathleen compared the home to an art gallery. So, instead of wedding rings, they asked Les to make them a bowl out of monkey pod — a tree that they'd admired the whole trip through the canyon. They wrote: "We decided instead of rings we would have a wedding bowl." Les agreed and was honored at the request, and Joel and Kathleen took the bowl home.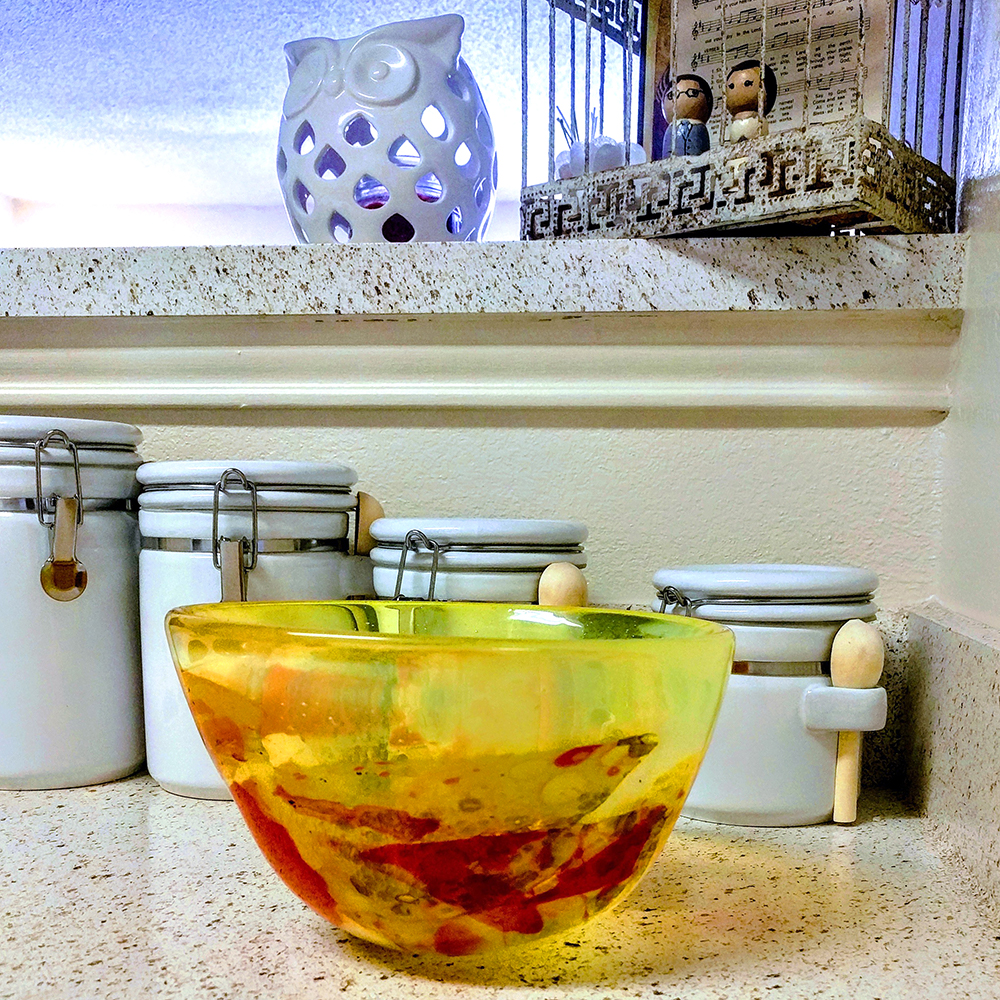 But the bowl didn't just sit on the table, or only get pulled out at family gatherings. Instead, it has played (and continues to play) an active role in the communication of Kathleen and Joel's marriage. "Our wedding bowl reminds us to nurture ourselves and nurture our partners," Kathleen and Joel explained in the letter.
Rather than just a kitchen tool, they use the bowl as a reminder that marriage requires work. They wrote to us about some of the significant times they've used the bowl in their marriage over the years. "At times when things are challenging or one of us needs the other to be present, or if life becomes busy with children and work, one of us hands the bowl to the other. This is a signal that means stop and be present for one another."
Now, when a couple they know gets married, Kathleen and Joel give them a wedding bowl of their own and encourage them to use the communication tool in their own marriage. So the wedding bowl tradition passes on, extending beyond Kathleen and Joel's homes and into the homes and their family and loved ones.
The letter read: "Bowls are beautiful and important as they can contain items that hands cannot, and they can hold more than our hands can hold. Bowls also extend to friends and family sharing food and conversation. Because I love this idea so much, I share with you your own wedding bowl."
Today, our own wedding bowl sits on our dining room table, and we see it every time we sit down for dinner together at the end of a long day. Its gorgeous glass reminds us every time we come together for a meal, we're given an opportunity to communicate about the day and nurture each other. Communication is crucial in order for our marriage to work, and the bowl offers a gentle daily reminder of this.
Kathleen and Joel's adventure in Hawaii taught me so much about marriage before our wedding day arrived. While rings are beautiful symbolic reminders of the promise Joseph and I made to each other, the wedding bowl daily reminds me what is at the heart of our marriage — the importance of nurturing each other and our marriage even after the feelings of love from the wedding seem to wear low. Even though we've only been married a short while, in the tough times to come, I know we'll use our wedding bowl as a reminder of what marriage is about — being present with one another, and getting through life together.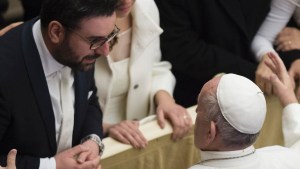 Read more:
What is this thing Pope Francis is suggesting for marriage prep?