It's an act of charity to help others prepare for death; our forefathers in the faith seemed to get this better than we do.
How many foolish things have you heard said about death? Here are some of the worst offenders I've heard, along with the anguished rejoinders they provoked:
"He's in a better place." (Really? Good for him! But I need him here with me!)
"You're young; you can still have other children." (But NO child can "replace" ANY child!)
"Soon you'll be in Heaven!" (How do you know that? Why didn't God tell me? Have I been wrong to "dread the loss of Heaven and the pains of Hell" for all these years?)
The prize for The Most Foolish Thing Said About Death goes to the school employee who began a memorial service for a student who had committed suicide: "Welcome to our celebration!" (To borrow from the Millennials: "I can't even …")
Among the wittier remarks about death is one attributed to Samuel Johnson, who, upon seeing the magnificent Palace of Versailles, quipped: "The trouble with a place like this is that it makes it too difficult to die." (In other words, who would willingly trade this grandeur for the grave?)
Perhaps one of the wisest statements about death in recent years came from Polish man-of-letters Czesław Miłosz: "Religion, opium for the people. To those suffering pain, humiliation, illness, and serfdom, it promised a reward in an afterlife. And now we are witnessing a transformation. A true opium for the people is a belief in nothingness after death—the huge solace of thinking that for our betrayals, greed, cowardice, murder we are not going to be judged."
Death has been described as a terror, because it removes us from this world; it has been described as a mercy, because it removes us from this world. Death-as-final has been scorned as an injustice, for most sinners and saints alike could receive their just deserts only in an eternal afterlife. Death-as-final has been welcomed as a triumph, the ultimate act of disdain by the wicked who will offer no accounting for their crimes.
What about the faithful Catholic? What does death represent to one who is a sinner called to be a saint? What does death mean to one who believes that the merciful God is just, and believes that God will not suspend the moral order for anyone? What does death mean to one who believes that after death one will be present before an all-holy God?
During the month of November, when Catholics make special efforts to pray for their beloved dead, we would do well to consider our own inevitable death. In doing so, we must take to heart that none of us know the exact moment of our death—and then we must live accordingly. As a college student, I worked summers for an auto insurance company, reading hundreds of accident reports. As a young Jesuit, I was a chaplain at a trauma center in a major city—seeing firsthand the terrible intersections of the fragility and unpredictability of life. In our age of medical miracles and technological securities, we may be inclined to view death as something that happens "last," that is, after we do everything else that we want and need to do.
Catholics of earlier generations knew better. Death and dying were frequent, visible, and almost certainly beyond our control. The emphasis then was not so much on avoiding death but avoiding dying badly. Catholics then believed that dying well meant dying in a state of grace. They dreaded dying "an unprovided death," that is, one without being prepared for by the sacraments and the intercession of the Church. St. Joseph was lauded as the "patron of a happy death." There were litanies and devotions dedicated to praying against the prospect of an unprovided death.
In The Shorter Book of Blessings (taken from the Roman Ritual) published in 1990, the priest is provided with prayers for the sick, but not for the dying. In The Priest's New Ritual, published in 1947, there are prayers for the sick provided, as well as a "Litany for the Dying," prayers for "the Final Agony," and "the Last Blessing" and the "Apostolic Pardon." One might infer that Catholics of another time had a more lively sense of death and the need for grace than our own time appears now. Reading those older prayers can help keep one from the sin of presumption—a form of pride that prompts false hope and illusions of self-sufficiency.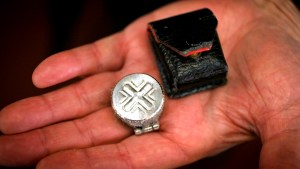 Read more:
What is the Apostolic Pardon?
It is an act of wisdom to contemplate death, and it is an act of charity to help others do so. We are mortal, so let us help each other prepare for death. We are immortal, so let us help each other prepare to meet God face to face.
When I write next, I will speak of our particular judgment after death. Until then, let's keep each other in prayer.