"Look at us a little differently" is a series of beautiful and dramatic portraits.
"Ida, you are a beautiful girl."
"A beautiful woman! Beautiful photograph!"
"Great haircut!"
These were the comments below the photograph of this unique model, published on the National Geographic channel on Instagram. They are comments that belong with any fashion photo – praising the beauty, styling, and hair — except the model isn't a girl working for the best fashion houses, but Ida, a teenager with Down syndrome, posing naturally and gracefully for the photographs of Marcin Zaborowski, a journalist and photographer working for National Geographic Poland.
"I had the privilege of carrying out a part of a very unusual social campaign (…) The photo shoot was very demanding (it was my studio debut), but most of all I am happy to have had the privilege of winning the smiles of the youngest ones for a few hours," wrote Zaborowski on his blog.
The portrait session, which was created as part of the second edition of the campaign "Look at us a little differently" (the first one took place in 2016), breaks social taboos. Smiling, cheerful, beautiful faces of people with Down syndrome that we see through Zaborowski's lens not only familiarize us with people with Down syndrome, but also show that it is not an obstacle to making your dreams come true. Their photos were published on the website of the Polish edition of National Geographic.
Thinking differently about disability
The campaign "Look at us a little differently" is an initiative of the Association of Families and Friends of Children with Down Syndrome, or "Iskierka," in Szczecin, Poland.
The association makes sure that Down syndrome and autism are not associated with suffering and unhappiness. On their website, there are stories of people demonstrating that these conditions are not the end of the world, but rather the start of another, equally full and happy, life.
Instead of fear and prejudice, they offer smiles and openness to others. And looking at the happy faces in Zaborowski's photos, it's hard not to see that in the beautiful people who agreed to be part of the campaign. They hope that maybe they can help to reduce discrimination against  people with different abilities and give their families and friends courage and support.
Read more:
9 People with Down syndrome who are changing the world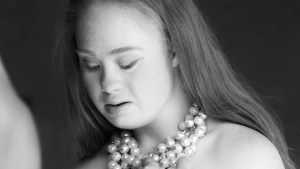 Read more:
Meet an international supermodel with Down syndrome