Pope Francis will be in the country starting January 25.
Some 47,000 young people from 155 countries have completed their registration for World Youth Day (WYD) in Panama in January 2019, but many more are expected, said Bishop José Domingo Ulloa, archbishop of Panama City.
As the first Central American country to host a WYD, Panama wants to show that it is ready to host this global event, being held from January 23 to 27.
Pope Francis will be present, starting January 25.
While only 47,000 pilgrims are formally registered, said the archbishop of the Panamanian capital, another 168,000 are in the process of registration, which means that the pilgrims should ultimately number just over 200,000.
However, this figure could be doubled by the participation of pilgrims and unregistered locals, especially at the concluding Mass celebrated by Peter's Successor. As for the volunteers involved in organizing the event, there are 37,000.
Host families
Most pilgrims, said Bishop Ulloa, will be lodged with host families. "The most important thing [during the WYD] is the relationship between the young people and the families who will receive them," the prelate said.
Public structures — including schools and gymnasiums — have been made available by the government to alleviate a possible lack of places. For now, about 60 percent of the homes needed have been found.
The Panamanian government is also committed to facilitating access to the country, to allow the largest number possible of foreign pilgrims to participate. An agreement was negotiated with all Central American countries to facilitate land transit. Likewise, an online visa system has been put in place to enable young Africans to participate; Panama has only a few embassies in that continent.
Read more:
Youth decide to bring Christ to the only mission diocese in the US
54 million dollars
In addition, more than 450 young Cubans will be able to make the trip. For Bishop Ulloa, this shows "the effort of young people in the region to participate in this unique experience."
Looking farther away, he also noted French youth have embarked on a crossing of the Atlantic to reach the famous canal. China, for its part, will also be represented by 243 participants.
Lastly, Bishop Ulloa gave a final figure—namely, the cost of the meeting: 54 million US dollars. This is being funded by registration fees, donations and sponsorship.
The government and local structures of the Church are also participating in providing infrastructure and security.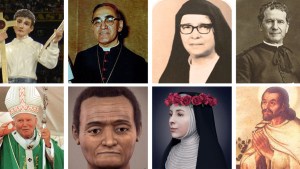 Read more:
Meet the patrons of the Panama World Youth Day