It's entirely possible that I'm going to go to my judgment and find the triune God standing baffled before me, but ...
What can God do in your life with one Bible verse a day?
Subscribe to Aleteia's new service and bring Scripture into your morning:
Just one verse each day.
Click to bring God's word to your inbox
This morning I'm sitting in an airport in Italy on my way to Brussels trying to figure out if I ought to go to the Netherlands in three days since my plans in Germany were canceled.
This is no grand European vacation. It's just my life. For nearly seven years I've been a hobo missionary, living out of my car in the States and out of a carry-on suitcase abroad, traveling the world to tell people about the fierce, tender, unceasing, life-changing love of our God. Sometimes I have events scheduled six months in advance; other times I wake up in the morning not knowing what state I'll spend the night in.
It's a life of near-constant discernment, trying to figure out where to go and when, how long to stay and what to speak on. But I don't spend a lot of time sitting in prayer waiting for angels to descend and hand me an itinerary. In fact, I discern in just the same way I tell others to discern: I've largely quit seeking God's will.
Given that discernment is a prayerful attempt to figure out God's will, this sure seems counter-intuitive. But hear me out on this one. We spend a lot of our lives discerning—not just figuring out whether we're being called to marriage or consecrated life, but trying to determine God's will for our families, our careers, our diets, our reading lists. Desiring to be in God's will is essential to the Christian life.
But those of us who are concerned with doing God's will can easily fall into a dangerous trap: We seek God's will above all things. Even above God. We use him as a Magic 8-Ball, going to prayer only to figure things out and not to come to know him better. We treat his will like a scavenger hunt set up by a mischievous (or sadistic) higher power who sends us signs and then laughs (or rages) when we don't notice them. We obsess over ourselves and our skills and our desires and our future and call it prayer.
Healthier discernment, I think, requires us to stop seeking God's will and start seeking God, to stop using him as a fortune-teller and start looking to him as Lord and lover of souls. If we run after the Lord, we will find ourselves in his will.
Ultimately, while I take my plans to prayer, I speak to the Lord about them and then leave them at his feet. I try not to insist on working out every detail there in the chapel, on interrupting my prayer to double check flight times and degree prerequisites. Instead, I spend serious time in silent prayer every day and I trust.
Read more:
Here are St. Ignatius' 8 rules for the discernment of spirits
I trust that if I'm in a state of grace and running after Jesus, he's either going to form my heart to desire what he desires, or he's going to stop me before I do something stupid, or he's going to fix it afterward. I sit before him every day trying to love him more and more and then I live my life. And I try not to lose peace over confusion or uncertainty, because I know that God delights in me. I know that if I'm earnestly trying to live in his will, he's not going to punish me (here or hereafter) for getting it wrong.
It's entirely possible that I'm going to go to my judgment and find the triune God standing baffled before me, wondering why on earth I thought I ought to be homeless and unemployed for the sake of the kingdom. There's a reason people don't live this way, and perhaps I've gotten it totally wrong and I was really supposed to be an accountant in Idaho or something.
Still, I expect to see pleasure mixed in with the bafflement. "Oh, but honey, well done. It was a weird life you chose, but you tried so hard. You got it wrong, but you sure were seeking me."
I think he delights in my efforts, however ridiculous they might be, and I find great peace in that. I can't mess up discernment so badly that I ruin his plan for me, because ultimately his plan is for my holiness. If I'm seeking him, he'll accomplish that, whatever odd paths it might take.
So if you find yourself stressing out about figuring out God's will, here's my advice: Stop seeking God's will and start seeking God. Make time for silent prayer every day, not to figure out your future but to learn to love him. Then make what seems like the best choice. Don't wait for a sign. If priesthood doesn't seem like a terrible idea, just enter the seminary. If you might want to be a missionary, just apply. Don't sit paralyzed by lack of certainty; pray and then act and trust that God will bring good out of your good intentions.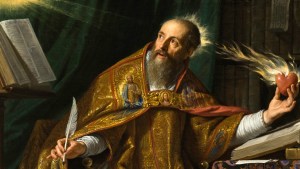 Read more:
St. Augustine's short, simple prayer that leads to holiness