This Sunday, we can consider what our life should be like after meeting the Risen Christ
What can God do in your life with one Bible verse a day?
Subscribe to Aleteia's new service and bring Scripture into your morning:
Just one verse each day.
Click to bring God's word to your inbox
Peter learns something important about Divine Mercy in the readings for the Third Sunday of Easter this weekend.
He learns that Divine Mercy doesn't just mean that God forgives our sins. It means that God gives us a second chance to face them again and get it right.
One week after Divine Mercy Sunday, that's important for us to learn too.
First, Peter gets to relive Jesus commanding him to cast his nets.
When Peter first met Jesus, he was tired from a night of fishing. When the preacher said "lower your nets for a catch," Peter reacted by complaining that he hadn't caught anything all night. Then, after casting his nets anyway and receiving that first miraculous catch, he says, "Go away from me, for I am a sinful man."
Jesus repeats the episode in today's Gospel, and the difference is striking. Peter silently obeys — then, when he receives a miraculous catch he tries to get to Jesus as quickly as he can.
After we have experienced Divine Mercy, we shouldn't just say, "Thanks, God. See ya!" We should find a way to be a more willing, energetic disciple.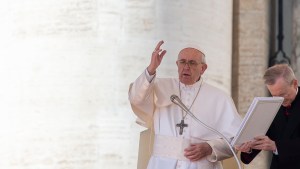 Read more:
Jesus doesn't want to scare you into conversion, says pope
Second, Peter walks into the water again.
Peter and Jesus have a history with water. There is, of course, the incident where Peter walked on water by heading straight toward Jesus. "But when he saw the wind, he was afraid, and beginning to sink he cried out, 'Lord, save me.'"
This time, Peter looks straight at Jesus and heads toward him across the water. And falls in. But rather than panicking like last time, he goes forward the hard way.
We may have the same experience. There was a time of special grace in our life, when Jesus gave us a big chance and we blew it. After we have gotten forgiven in Confession, we may find that that great opportunity is lost forever. Now we have to go to Jesus the hard way. But now we have learned to be willing to do whatever it takes.
Third, Peter gets a second chance at his fireside trial of his faith.
On Passion Sunday, we heard Jesus tell Peter, "Simon, Simon, behold Satan has demanded to sift all of you like wheat, but I have prayed that your own faith may not fail; and once you have turned back, you must strengthen your brothers."
Peter responded, "Lord, I am prepared to go to prison and to die with you."
Jesus warned him that before the cock crowed three times, Peter would deny him three times. That night, beside a fire in a courtyard, that's exactly what Peter did.
Now, Jesus lights a fire and gives Peter three times to say how much he loves him. This time, Peter passes the test.
This is one of the prerequisites of confession, and therefore of Divine Mercy, also. We have to have a "firm purpose of amendment" — we have to be willing to do the opposite when the old temptation resurfaces.
Read more:
7 Tips for a good confession, from a saint and spiritual guide
Fourth, Peter gets to strengthen his brothers.
At the beginning of the Gospel, we see that Peter's leadership of the Church is kind of going off the rails. He says, "I am going fishing," and the meaning seems to be that, after Jesus has died and risen from the dead, Peter is restless to return to his old way of life.
After this encounter with Christ, we know what happens to Peter, because it is in the First Reading.
At the Sanhedrin, the very place where he denied Jesus, Peter now refuses to stop preaching Jesus' name.
"We must obey God rather than men," he tells them. "The God of our ancestors raised Jesus, though you had him killed by hanging him on a tree. … We are witnesses of these things."
He is finally strengthening his brothers.
Read more:
Did you know that many saints in the early Church raised people from the dead?
That is what we are meant to do, also.
After being touched by Divine Mercy, we, too, return to our old way of life, but are meant to return to it changed, ready to make more people know the gift we have gotten.
It is a gift that will pay off big time for those we give it to — it will help them to be part of that countless number in the Second Reading who cry out: "To the one who sits on the throne and to the Lamb be blessing and honor, glory and might, forever and ever."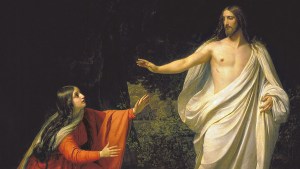 Read more:
5 quotes from recent popes on the joy, beauty and necessity of evangelization