One maternity hospital in Australia is leading the way with a new co-sleeping solution.
The few days after delivery are filled with mixed emotions for new moms: from dealing with exhaustion and pain, to excitement mixed with a doses of anxiety. Moms will spend hours gazing at their new little miracle — memorizing every wrinkle, crease, and fold — strengthening the very crucial maternal bond. Yet in the midst of all this new-found joy, it's important for moms to get their rest. And thanks to BellyBelly, an Australian parenting site, there's a co-sleeping solution that helps make this possible.
The site posted the beautiful picture below of a mom gazing at her little bundle safely asleep in a special bassinet attached to her hospital bed. The design means that the mother can't roll onto her baby as she sleeps — a common fear among child experts and new parents — and yet the baby is always at arm's reach so mom can feed, snuggle, and be physically close to her newborn.
The bassinet is also practical in many other ways. It's the ideal solution for moms who've just had a c-section and are limited in their movement, allowing them to participate more in their baby's first few days. It's also great for breastfeeding mothers who deal with the practicalities of learning to breastfeed, which is not always easy.
Hopefully more maternity hospitals will follow suit to help all mothers stay closer to their babies after birth.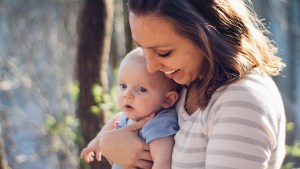 Read more:
How to recover from childbirth at your own speed