Pilgrim leaders are cautioned to avoid making it seem as if the Church has recognized the apparitions
Pope Francis has decreed that dioceses and parishes may organize pilgrimages to Medjugorje, though no official pronouncement on the authenticity of the apparitions has been made.
This was announced at the parish shrine at Medjugorje on Sunday by the apostolic nuncio in Bosnia-Herzegovina, Luigi Pezzuto, and Archbishop Henryk Hoser, the pope's special envoy sent to Medjugorje to study the pastoral situation of the shrine.
The "ad interim" director of the Holy See Press Office, Alessandro Gisotti, responding to journalists' questions about the announcement, specified that the papal authorization must be accompanied by "care to prevent these pilgrimages from being interpreted as an authentication" of the supposed apparitions, "which still require examination by the Church."
"This also concerns pastors of every order and level who intend to go to Medjugorje and celebrate or concelebrate there even in a solemn way," he aded.
The Vatican spokesman said that the pronouncement is in consideration of the "considerable flow of people who go to Medjugorje and the abundant fruits of grace that have sprung from it" and the Holy Father's desire to recognize the pastoral needs, "aimed at encouraging and promoting these good fruits."
Gisotti said that the pronouncement will facilitate organization and coordination with the priests who bring groups, and others who can conduct the pilgrimages, and locals at the shrine.
Investigating
Pope Francis appointed Archbishop Hoser to evaluate the pastoral situation of the shrine a year ago, on May 31, 2018. Since that time, both the archbishop and the pope himself have spoken about pilgrimages to Medjugorje, highlighting both the pastoral fruits coming from the shrine — for example, people receiving the sacrament of confession — as well as the Church's hesitation about at least some of the supposed apparitions.
See more here:
Read more:
Pope Francis: "There's grace in Medjugorje. There's no denying it; people are having conversions."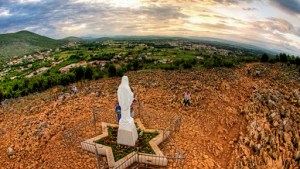 Read more:
Pope's investigator in Medjugorje: First 7 apparitions might be recognized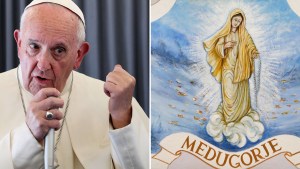 Read more:
A member of the Medjugorje Commission explains the pope's skepticism
Of the six visionaries, who were children and youth when the apparitions are said to have begun in 1981, three claim they still have a daily apparition of the "Queen of Peace," always at the same time in the afternoon and wherever they are.
These three are Vicka (who lives in Medjugorje), Marija (who lives in Monza) and Ivan (who lives in the United States but often returns home). A fourth visionary, Mirjana, says that she receives an apparition every month, on the 2nd, while the last two report an apparition once a year.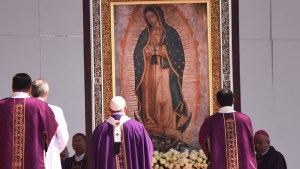 Read more:
The Church is still very careful about Marian apparitions, says Pope Francis