When receiving Holy Communion, we are allowed entrance into the sanctuary of Jesus' Heart.
Need an idea for Lenten almsgiving?
Help us spread faith on the internet. Would you consider donating just $10, so we can continue creating free, uplifting content?
Make a Lenten donation here
Reception of Holy Communion is the "source and summit" of a Catholic's spiritual life and presents a unique opportunity to unite ourselves with the Heart of Jesus, on fire with love for us.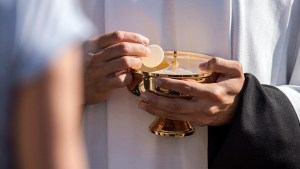 Read more:
Prayer before Communion for spiritual healing
However, often we don't take advantage of the time after our reception to fully appreciate this moment and let God's love penetrate our soul.
Here is a brief prayer from the Golden Manual that expresses our desire to remain in Jesus' Heart, asking God to let us stay a while in his "sanctuary."
Lord, we have had the happiness of being admitted into the sanctuary of your Divine Heart; give us grace that we may abide therein for ever; so that we may obtain the happiness which you have prepared for your elect. O Heart of Jesus, I will not depart till you have blessed me. Amen.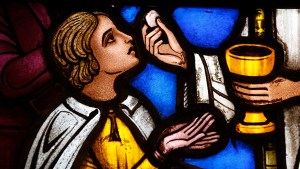 Read more:
Meditate on God's presence after communion