The headlines are plain overwhelming. The Church's oldest prayer to Our Lady is solace.
Beneath your compassion, we take refuge,O Virgin Theotokos.Despise not our prayers and our needs,but deliver us from danger,for you alone are pure and blessed …
We sing this ancient hymn based on the oldest Marian prayer, the Sub tuum praesidium, just about every Sunday in my small Byzantine parish. When we do, my eyes always rest on an icon of Our Blessed Mother covering a child with her robe. Lately, I feel so thankful to be that child.

I'm not alone here, hiding behind my mother's skirts. Brothers and Sisters in Christ from throughout the centuries surround me, and they're a comfort too. I reflect on their lives when I visit my local cemetery to sit beneath a statue of Mary. It's a shady spot, with sunlight filtering in through the leaves. A Vietnam veteran's headstone is near Mary's feet, along with that of a priest who was a chaplain in both World Wars.

"Relax," they seem to say, speaking to me from outside of time with keen perspective. "Remember how Jesus said, 'In this world you will have many troubles' (John 16:33) – just like we did! Why are you so surprised?"

These eternal lives speak to me as I sit there, weepy about the headlines, pulling out handfuls of grass. But Mary comforts me most of all. I look to her, remembering Jesus' words from the cross: "Behold thy Mother." (John 19:27)

And it's like she's holding me in her arms. Yes, Jesus is my savior, but when I'm hurting, I need to hide beneath my Mother's robe. So I'm ever grateful, especially lately, that Jesus shares his mom with me.

I brought the concept of taking refuge in Mary to my confessor, and he pointed out that the Old Testament Hebrew word for God's mercy is rachamim, which comes from the word rechem, which means uterus or womb. Hence, God's merciful love for us is motherly. And in his generosity, God has provided for us a human female person who, although not God, carries in herself the rachamim of God to all mankind.

Due to these strange times, my tiny church has been closed for the first time in 150 years. But fortunately, I have a copy of that small icon of Our Lady and the hiding child emblazoned in my mind's eye. Also, I found the

on YouTube. Perhaps you'd like to sing along.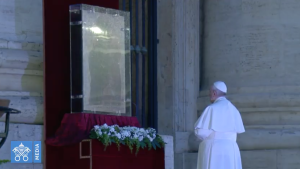 Read more:
The image of Mary that Pope Francis wanted present for his 'Urbi et Orbi' blessing