Turns out that the practice of fasting helps us bring balance and equilibrium to our lives.
What can God do in your life with one Bible verse a day?
Subscribe to Aleteia's new service and bring Scripture into your morning:
Just one verse each day.
Click to bring God's word to your inbox
If I see a piece of cake, I'm going to eat it. It might be now or it might be later, but it shall be eaten. If later, I'll think about it until I get to it. Sometimes, when I think a treat is in the pantry and discover someone else already ate it, the feeling of despair in my heart is truly pathetic.
It was about 10 years ago that I realized I had a broken relationship with food. At the time, a few of our children were dealing with chronic health issues and, to help them with the healing process, our whole family committed to the GAPS diet, which is a dietary protocol that encourages healing of the digestive system.
During the first stages of the diet, we were only allowed to eat boiled vegetables, meat, and some broth. Within reason, we could eat as much of those three categories of food as we wanted, but absolutely no other types of food. Within days, I felt like I was starving. My body cried bloody murder, and the powerful cravings for sugar I experienced were relentless. I was taking in plenty of calories – more than enough — but my body was so adapted to all the extra sugar that had been present in my previous diet that it was convinced something had gone terribly wrong. My brain kept sending out signals to eat. If I hadn't been following the diet in solidarity with my children, I would have given up.
Eventually my body adapted and I was just fine, but those weeks of adjusting the types of food I ate and cutting sugar made me realize that I was addicted to an unhealthy lifestyle. Even if I hadn't technically been overeating, I was indulging in gluttonous behavior. The goal of the GAPS diet isn't to forever reduce us to eating boiled meat and veggies, but as we slowly got healthier and reintroduced more variety into our meals, moderation was always the long-term goal. Today, we eat a fairly normal diet with the exception that our consumption of sugar is far lower than it used to be.
I've never been a big fan of eating breakfast, and since I changed my diet I've also intentionally eliminated breakfast so I can keep an intermittent fast.
This type of fasting, which for me means not eating for a period of about 14 hours each day, has a number of health benefits. As with the GAPS diet, the goal of the intermittent fast isn't to push to the extreme – I still eat two full meals per day and maybe a snack or two – but the goal is to moderate the amount of time that I spend eating.
To many, the idea of going without even a single meal seems extreme. Why would you do it? The more I've learned about fasting, the more I've come to understand that it isn't extreme at all, but is part of a lifestyle of moderation. It seems to me that many of us have areas of excess in our lives — too much food, too much gossip, too much sexual temptation, too much shopping — and fasting is a tool we can pick up to combat those excesses. Fasting sets us free from addiction to consumption.
At first, the idea of skipping a meal appears to be totally unrelated to whether I gossip about my friends or am having trouble with lust, but St. Thomas Aquinas and other philosophers directly link the virtue of moderation, particularly in regards to chastity, with the discipline of fasting.
Those who have trouble maintaining purity of heart would be well advised to try fasting. It's a discipline that, rather than pushing us to the extreme, helps us bring balance and equilibrium to our lives. It sets us free from extreme desires and unhealthy, excessive lifestyle choices.
Advent is quickly approaching, and with it will arrive a series of days called Ember Days. Once every three months, another set of three Ember Days arrives. These days appear at the changing of the season. For instance, the upcoming Ember Days are on December 16, 18, and 19, and hearken the arrival of the Winter Solstice. The days themselves have traditionally been dedicated to making a positive change through prayer, fasting, and penance. Right before the feast of Christmas and all its attendant temptations to over-consumption, perhaps a bit of fasting – even if just skipping breakfast or lunch — on the Ember Days would do us all some good.
What I've discovered as fasting has become a more established part of my life is that it isn't a habit that is opposed to our bodies. Our bodies actually gain health from occasional fasting. So too does the soul. Keep in mind that our natural desires are not necessarily wrong, but because of our flaws and weaknesses, they easily spin out of control and begin to dominate us. Left unchecked, our passions will lead us to soul destroying behavior like gluttony, enthrallment to lust, or addictions of all kinds. We regain freedom by fasting.
St. Basil the Great puts it beautifully when he says, "Fasting gives birth to prophets and strengthens the powerful; fasting makes lawgivers wise. Fasting is a good safeguard for the soul, a steadfast companion for the body, a weapon for the valiant, and a gymnasium for athletes. Fasting repels temptations, anoints unto piety; it is the comrade of watchfulness and the artificer of chastity. In war it fights bravely, in peace it teaches stillness."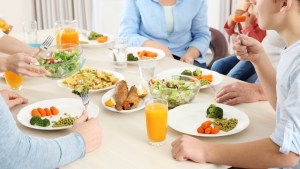 Read more:
9 Therapeutic benefits of fasting