It's not every day that a religious sister makes news headlines, but this holy woman's life certainly deserves it.
Need an idea for Lenten almsgiving?
Help us spread faith on the internet. Would you consider donating just $10, so we can continue creating free, uplifting content?
Make a Lenten donation here
Religious sisters are not often in the news, but they deserve to be, not only because they make great sweets, but because many of them lead truly exemplary lives, dedicated to others—to the poor, to the sick, to the forgotten, and to praying for all of us.
Yes, they dedicate their lives to prayer, to talking with God about you and me, and asking Him to take care of us. Worth pointing out, don't you think?
As I was saying, nuns don't usually make the front pages of newspapers or appear on the evening news, despite their remarkable work. But it turns out that if you open your browser, and write in the search field, "Sor Victoria, Hija de la Caridad" ("Sister Victoria, Daughter of Charity") you're in for a pleasant surprise: There are many positive articles about her in news outlets, both secular and religious. You might ask yourself, "What has this good woman done to get her name in all the newspapers in southern Spain?"
It would be a bit inadequate simply to say that she has done what she had to do, and has been what she was—a nun. She did everything I have described above—work a lot, pray a lot and help a lot. But she stole the heart of the people. And I use the past tense for all this because Sister Victoria Virués died last November 3.
She was neither an actress nor a mayor, nor a celebrity, nor did she appear in magazines during her lifetime … but the media have been spreading the news that she has passed away. You only have to read the information they offer to get an idea why this woman is news. The affection for her that fills the news coverage is undoubtedly striking, but why this reaction?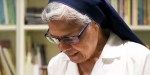 Read more:
The religious sister who secretly spent 35 years praying with death row inmates


The story of Sister Victoria
Victoria Virués was born 95 years ago in Chiclana de la Frontera, a town in Cadiz, in southern Spain. She lived through the Spanish Civil War and World War II, and many, many crises in her country. She was educated at a Daughters of Charity school, and at the age of 18 she already knew what she wanted to do with her life. At the age of 21, she decided to enter the convent of the Daughters of Charity of St. Vincent de Paul. In 1986 she arrived in the city of Jerez.
The roles she carried out at various times included serving as superior of her community, directing the El Salvador soup kitchen for years, and dedicating 70 years of her life to the people most in need. So many years and good deeds, summarized in just a few words!
The COPE Radio reports the words of Sister Teresa Pérez, the current superior of the local community of nuns, who describes Sister Victoria in these terms:
She was always a very good person, very prudent, very humble, very simple, and a great lover of the poor and of her community. A woman of prayer and of an intense spiritual life, she always was what we call a true Daughter of Charity, an example and reference point for all of us who knew her and had the joy of living with her.
Adopted daughter of Jerez
With her work and attitude, Sister Victoria left an indelible mark on the places where she carried out her mission. That earned her the title of Adopted Daughter of the City of Jerez in 2011. Yes, a Daughter of Charity. A nun. A true witness. For meaningful inspiration, just look at what she said when she earned the title:
If I have done something right, I thank the Lord. Love for the poor is at work in me and has brought me to this city. From the depths of my heart I want to express a very great gratitude to God for this vocation, in which I feel very happy.
She worked in nursing homes, homeless shelters, and soup kitchens; there is even a soccer field named after her. At the age of 64 she was granted total labor disability status due to an ischemic cardiopathy. Nonetheless, that didn't stop her from continuing to work in some capacity and to help until she passed away.
She was a person who dedicated her life to those who needed her most. She inspired love and affection wherever she went. That's why today, if you go on the internet and look up Sister Victoria, you'll get a lot of news about a religious sister, who humbly helped others and made a difference for the better in countless lives.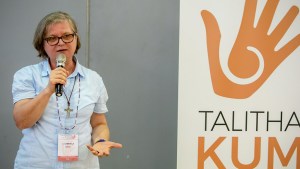 Read more:
Religious sisters in the front line against human trafficking