Islamic State group and Boko Haram both active in area of massacre.
Scores of people have been killed in one of the worst jihadist attacks seen in recent years in Nigeria.
Attackers on Saturday tied up agricultural laborers working in rice fields and slit their throats near Maiduguri, the capital of northeastern Borno state, according to the BBC.
The bloody assault could be in retaliation for the arrest by a group of farmers of a member of Boko Haram, who was handed over to local security officers, said Fides, the information service of the Pontifical Mission Societies. 
Reuters reported that 30 of the victims were beheaded in the attack. Reports also say about 15 women were kidnapped.
National Public Radio said the attackers swooped into the area on motorcycles. The news outlet quoted French wire service AFP as reporting that victims were laborers from Sokoto state in northwestern Nigeria, who had travelled to the northeast to find work.
Local residents told Reuters that at least 70 were killed during the attack. A U.N. official in the region, Edward Kallon, said "tens" of civilians were killed.
"The incident is the most violent direct attack against innocent civilians this year. I call for the perpetrators of this heinous and senseless act to be brought to justice," said Kallon, who serves as the resident and humanitarian coordinator in Nigeria.
The U.N. Security Council said that "those responsible for these terrorist attacks should be held accountable."
Though no one has claimed responsibility, Reuters and the BBC said that at least two militant groups are active in the area: Boko Haram and Islamic State West Africa Province.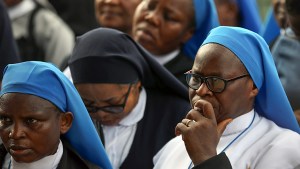 Read more:
Anti-Christian patterns against Near East Christians seen being repeated in Nigeria