This teenager can't move on his own, but his happiness and appreciation for life are infectious.
Andrés Marcio is 17 years old, and he knows more about life than I do. He welcomes me for the interview lying on his bed in his room. He can't move, and he's surrounded by an Alexa device, a PlayStation, a cushion to support his neck better, and an image of the Virgin Mary hanging on his wall.
He suffers from a disease called laminopathy. A few dozen people in the world have it, and his symptoms are so many that they're difficult to describe. He cannot move his extremities, his neck cannot support his head alone, he has serious heart problems … He says that in his illness is like "a flea market" because it has "a little bit of everything."
I realize that he can't move, and I can't understand how he plays on his PlayStation. "Ah, no," he tells me. "My father plays. I tell him what to do, but don't think that he always listens to me!" He laughs. That's a typical response from him.
Andrés says that when the day starts, he puts on music, calls first one of his grandmothers and then the other, talks to his parents, plays with his sister, and catches up on the latest soccer news—he's a fan of the team from the capital, the "Atlético de Madrid." He also enjoys tabloids. It's a curious detail, as curious as the fact that he loves eclectic and minimalist cuisine.
I tell him that rooting for Madrid's soccer team is not a great idea when you have a bad heart. He answers with laughter that every time Atlético de Madrid plays an important match, he tells the doctor in Barcelona, who monitors his heart 24 hours a day. That way, the doctor knows that if something strange shows up on the monitor, "it's normal."
A sense of humor
He also tells me that he loves to make prank phone calls—from calling a soccer club posing as a soccer manager, to calling a hair grafting company to have only half of his head done. When I ask him about difficult moments or bad days, he surprisingly has a hard time coming up with much to say.
Instead, I try to find out what have been the "most incredible" moments of his life. In this case, he also hesitates. He does this because he says that for him, waking up every morning and being able to say hello to his parents, give his sister a kiss or be with friends, is already an incredible moment.
This is the moment in the interview when my own problems begin to appear very, very small; it makes me want to hide under the bed in shame at seeing so much wisdom in such a small body.
He says the key to dealing with his illness is to live with it naturally and joyfully:
I have two options: to become bitter and live this in the worst possible way or, the other option. I have chosen to live life with joy and hope.
Read more:
Woman blind and disabled from premature birth graduates summa cum laude
Optimism and faith
He says without fear that he has a lot of faith in God and that He helps him a lot. He has hope and trust in doctors for them to find a cure. He jokes that they're going to buy him a new wheelchair that will go more than a mile per hour faster than the one he has now.
I interviewed this outstanding young man in the context of a project that aims to show the other side of illness, suffering and death. We want to show that suffering can be experienced in a different way, in our society in which people try to solve problems by cutting them off at the root—problems as deep and sensitive as the end of a person's life.
Andrés Marcio is a happy young man. He's happier than I was at his age, and happier even than I am now at 28. He faces his problems in a way that makes him value—infinitely more than most—the small things that we should all be able to enjoy. His example should help all of us to be more aware of the blessings we have, and to face our adversities with at least a little bit more humor.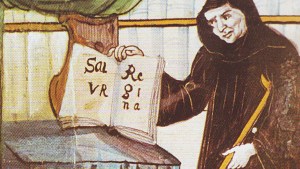 Read more:
Lessons on joy from a disabled saint