Harpa Dei's excellent performance prepares the faithful for the coming of the Christ.
"Come, Lord Jesus." 
Harpa Dei released this wonderful and simple chant just in time for Christmas. The song, "Come, Lord Jesus, Maranatha!" doesn't have a lot of lyrics, but there's a lot going on in the music.
The chant is meant to prepare the faithful for the arrival of Christ. The phrase "maranatha" is Aramaic for "come, Lord Jesus" and it is repeated in various world languages to illustrate how Christians around the world await Christmas. The singers effortlessly move through Spanish, English, German, French, Italian, Chinese, Hebrew, Russian, Greek and Latin.
The first thing that struck us was the impeccable diction that Harpa Dei maintained in each language. Along with seemingly effortless pronunciation, this small choir creates incredibly tight harmonies. Their voices blend perfectly as they sing each verse together, but at around the three-minute mark the alto voice part takes on an underlying solo that gave us shivers.
One of the reasons Harpa Dei's voices mesh so well, aside from their considerable talent, is that they are all siblings. In 2011 they discerned a calling to evangelize through sacred music. From there, they started producing sacred music recordings at a prolific pace. Their YouTube Channel has over 60 beautiful songs, each with a high-quality video.
Since then, their mission has taken them around the world, including Mexico, Israel, Germany, Russia, the US, and more. On their website, they write of their work:
Harpa Dei hopes to be able to contribute to recovering and creating sensitivity towards the musical tradition of the universal Church, which, in the words of Vatican Council II, "constitutes a treasure of inestimable value, which stands out among other artistic expressions."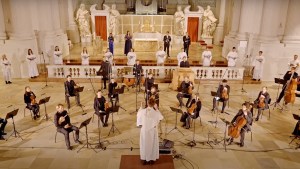 Read more:
'Oratio' is the greatest sacred music recording of 2020