With God's help, we can recognize his presence in every affliction.
Send us the names of your loved ones who are sick or suffering. The Aleteia prayer network of 550 monasteries will take them to prayer for the World Day of the Sick.
Click here to share your intentions
While it is relatively easy to be thankful to God for good health and prosperity, do we ever give thanks to God for suffering?
It is difficult to see God's presence in affliction and most often, we think that God is somehow absent from it.
Yet, with God's help, we can see suffering as a gift.
Suffering, of course, was not in God's original plan. It entered the world with the sin of our first parents. God doesn't desire it, but he allows it, and in his omnipotence, St. Paul says that he is able to make all thing work together for good (see Romans 8:28).
God can use the sufferings that are part of our journey through this fallen world, and even our sins, to bring about good. Pope Francis just mentioned this on the Feast of the Epiphany:
Paul says that everything can help us to grow spiritually, to encounter Jesus, even our sins. And Saint Thomas adds: "etiam mortalia," even the bad sins, the worst.
The 19th-century book The Catholic Monitor reflects on this fundamental truth.
All the people of God are brought into the school of affliction. Many useful lessons He teaches them in that school. They learn more of the value, sweetness and suitableness of the word of God as affording support and comfort under the pressure of affliction. They are taught to observe the hand of God in affliction and to submit with patient resignation as knowing from whence it comes. From sweet experience they learn more of the kindness and love of God, whose gracious presence enlightens and cheers them in the most dark and mournful seasons.
In particular, suffering can teach us to rely more on God and to seek after Heavenly things, realizing that the world does not fulfill the ache in our heart.
Thus by the grace of God they acquire greater humility. At the same time the Lord Jesus Christ becomes more precious to them and they perceive more of His beauty and excellence. Their impressions of the reality and vast importance of eternity are rendered more deep and in the views of it they are led to place a firmer dependence on the Lord Jesus, resting on whom they feel that they are safe and happy. They are taught to perceive more of the vanity of a present world and to realize more of the glory and substantial blessedness of heaven. Thus do their minds become more spiritual and their hearts are more fixed on the things above where Christ sits at the right hand of God.
When this is difficult to do, pray to God for the grace to see His hand guiding you, even in suffering. We may not be able to see it at the time, but days, months or years later, we will look back and see clearly how God led us through the shadows of this world and brought our soul to a much better place.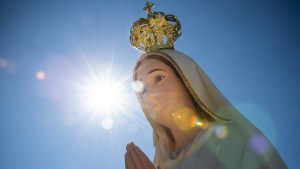 Read more:
Are you suffering? Our Lady of Fatima has these words for you
Read more:
Meditate on Jesus' suffering when you are sick