Can the pandemic be an opportunity to grow stronger as a Church? Dan Cellucci thinks it can.
When COVID-19 began to spread, the bishops decided to do something unprecedented. They gave a temporary dispensation from the Sunday Mass obligation, and churches everywhere closed their doors.
The decision was prudent, as indoor church services can be "super spreader" events for the virus. But as the months slip past, and the dispensation continues in most places, many Catholics have grown used to a new habit of spending Sundays at home instead of at church.
The "new normal" of "Mass at home" is a growing concern among ministry leaders. Ever since the world turned upside down, priests, parish staff, and others in ministry have asked themselves a worried question: What if our parishioners don't come back when churches reopen?
This all-too-real fear is faced head-on in a recent OSV Talk by Daniel Cellucci, called "What if they don't come back?" (available to watch on Vimeo and Facebook). And his response to it offers the hope we all need to hear.
Cellucci is CEO of Catholic Leadership Institute, an apostolate providing leadership training and consulting to more than 250 bishops, 3,500 priests, and over 25,000 deacons, religious and lay leaders in more than 100 dioceses. As the head of a large ministry, he has grappled with the worry that churches will stay empty even after the pandemic ends.
"Where is everyone else? When is everyone else coming back?" His young son asked him when their family returned to Mass for the first time after the church closures.
Facing and confronting that question is only possible with trust in God, and an apostolic worldview. And it's this Christ-like approach that Cellucci encourages Catholics all over the world to adopt, when they too feel anxious about the pandemic's impact on the Church.
"We have so much fear as a Church, so many unspoken 'What ifs?,' and this pandemic has brought them all to the forefront," Cellucci said in an interview with Aleteia. "My message is that we have to name the fear and remember that with God 'Nothing is impossible.' We need to continue to move forward in faith."
What if the pandemic was an opportunity instead of a disaster? What if this strange time drew people to seek out Christ, instead of to push Him away? How can we, as a Church, meet the needs of a hurting world that's crying out in desperation for Christ's hope and peace?
Cellucci turns the question on its head, and with clarity and wisdom, encourages Catholics to see this crisis as an opportunity to grow.
It's a radically different way of looking at the situation. It requires seeing with the eyes of Christ, and placing radical trust in Him. But it's the perspective we need to emerge from this trial renewed and stronger as a Church.
Cellucci's timely and encouraging message is available to watch here. It's one in a series of OSV Talks, which shine a light on creative means of evangelization, springing from the wisdom and deep prayer that energize these approaches. The talks, which are similar to TED Talks but with a Catholic focus, are free and available for anyone to watch at OSVTalks.com.
"The Church and Her tradition are timeless and never more relevant than the present moment," Cellucci said, "therefore great Catholic innovation is 'ever ancient, ever new,' as Augustine said. Catholic innovation combines what we know to be true with the creativity that we believe God has placed in each one of us to bring about a new springtime of evangelization."
The time is ripe for renewed innovation, which organizations like the OSV Institute are pioneering. A discerning spirit of innovation will help bring the Gospel to new generations. Cellucci said,
Too often we confuse the past with imaginary restrictions on the future. We have so many assumed constraints at work in our parishes and dioceses. We have come to believe so many false narratives about who we are, what we are capable of achieving, and how little value our faith has to others and to the world.

Renewed innovation gives us these glimmers of hope, these windows into one of the best pieces of our history and identity as Catholics–how much we have brought to the world, in science or philosophy or literature or art or social thought. We are the ultimate creatives because we believe in the One True Creator. We need innovation to give us that confidence to keep moving forward.
Cellucci hopes his Innovation Talk can inspire and encourage other disciples:
I hope my talk helps people lean into their fear and realize that it's just that — fear. I want us to look to the future with hope and possibility regardless of how bumpy it looks and feels. We have so much in front of us if we believe in the Lord's promise, really believe.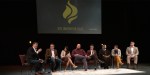 Read more:
Catholic "OSV Talks" bring energy and new ideas to evangelization




Read more:
3 Groundbreaking evangelization projects awarded $100,000 each from OSV