This dedicated dad inspires his daughter every day!
There's something beautiful and unique about a father-daughter relationship. Growing up, girls often feel reassured that their daddy is not only the best in the world, but he will be a pillar of strength when times get tough. And one dad, Chris Yandle, has proved to be just that to his daughter, Addison.
In an interview with Today, Yandle explained to journalist Craig Melvin how he used some impressive dad skills to let his daughter know he was by her side — every single day.
Yandle, from New Orleans, shared how he felt he hadn't been as good as a father as he wished he'd been back when his daughter was nine. While work had kept the family moving around, he also went through a harrowing experience of reaching the pinnacle of his career in college athletics and then losing his prestigious PR job.
.@CraigMelvin chats with New Orleans-based author Chris Yandle about his #DadLunchNotes project, which inspired him to write over 600 inspirational lunch notes for his daughter. pic.twitter.com/EtOV16ia4P

— 3rd Hour of TODAY (@3rdHourTODAY) January 28, 2021
Luckily, Yandle put his energies into trying to focus on his family. He and his wife Ashley had noticed, due to their own experiences when young, that their daughter showed signs of being bullied. So to let her know he was by her side, he decided to pen a little inspiring note and pop it in her lunch bag. This soon became a daily habit and the number of notes now total over 600.
These notes weren't only about giving his daughter a boost, they were also motivating her to be her very best. Just like this one: "You're only as pretty as you treat people."
In 2018, the penman decided to collate the impressive number of hand-written messages into a book. Not only could he motivate other parents, but this wonderful collection of thoughtful and fun notes will be a constant reminder of the energy and love Yandle poured into his own father-daughter relationship.
Now a 7th grader, Addison is still receiving notes from her dad, even though classes are online. She explained that if she were to write a note, it would be to share with her dad — who she says is capable of cringe-worthy dad jokes — just how much she cares about him.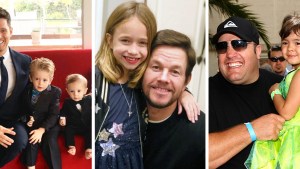 Read more:
9 Quotes from celebrity dads about parenting