Rather than feeling defeated or stressed, there are ways to help!
In the ebb and flow of married life, there are times where you struggle with heavier crosses than usual. Maybe your job is particularly difficult or stressful, or maybe a combination of things has made you depressed. And then there are other times when your spouse is suffering more than usual.
Unfortunately, it doesn't work out that hard times come equally to both spouses in a predictable pattern. If it were like that it would work well because one of you would always be refreshed and ready to tackle life while the other person recovers. It doesn't work that way, though, because usually when one of you is struggling, it affects the other person simultaneously. The challenge then is this; how can you be as supportive as possible without letting your spouse's suffering bring you down too?
1
Notice patterns
Be extra loving when your spouse struggles the most. When does life seem hardest for your wife or husband? Is it at dinnertime right after work? Is it at night when trying to go to sleep? Maybe Monday dread rears its head strongly on Sunday afternoon? If you're able to notice patterns, that awareness can help both of you be prepared to navigate the hardest parts of each day or week.
2
Find ways to keep your spirits up
Don't let their mood bring yours down too much. Make sure you're doing something for yourself to stay sane, even if that just means 30 minutes of downtime or drinking your favorite coffee. If you're grumpy and burnt out, it won't help anyone. You can choose to be joyful despite the craziness of life at any time, and now is as good a time as any to work at choosing joy.
3
Utilize counseling if you can
Some struggles clear up quickly and on their own, but in many cases individual counseling for one or both of you could help tremendously. If one of you is struggling with mental illness, definitely seek it out. But even if you doubt that it's something with a diagnosis, it might help to talk it out with someone who knows how to listen. Check what counseling services your local Catholic Charities provides (they often have a sliding scale for fees if your insurance won't cover it).
4
Remember that suffering bears fruit
There's hope at the end of the tunnel, and no matter how difficult life is right now, the pain can bring good in some way (either now or in the future). St. Teresa of Avila spoke about this when she wrote about how to truly love someone like Christ loves in The Way of Perfection. She calls this true love "spiritual love," and comments that if you love someone you will wish you could suffer instead of them, but that you realize there are merits to suffering well. And if you truly love someone you will want them to get whatever good benefits will come from their suffering. 
Overall, keep a few items in mind. This too shall pass. Even if the particular hardship your spouse is going through is a chronic one, not every moment or period of time in your marriage will be difficult in the way it is right now. Hard times come and go, but so do good times and beautiful moments. If you're able to help each other through this moment, you'll be even more prepared for the next moment.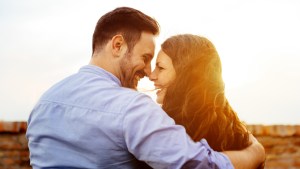 Read more:
12 Bible quotes to inspire your marriage