Jamie Rivera gives a flawless performance paired with a colorful music video.
The Catholic Church in the Philippines celebrates its 500th anniversary in 2021. To celebrate this monumental year, they have joined with pop singer Jamie Rivera to release "We Give Our Yes." The song is a jubilant reflection on 500 years of faith, paired with a wonderful music video that highlights the Philippines faith journey.
Rivera's treatment of the tune was spot on, with a clear, crisp voice that feels destined for Disney. She carries the song with a warm tone and ringing high notes. According to The Manila Standard, Rivera performed the song live at the Manila Cathedral to kick off the 500 Years of Christianity festivities on February 6. Of her performance at the virtual media conference, Rivera said:
"I think this is really my mission, a mission for me to be able to give people a prayer and, at the same time, they could sing with it as well."
The mission cross
A report from Asia News notes that Bishop Broderick Pabillo, apostolic administrator of Manila praised the song. He suggested that carrying the "missionary cross" and singing "We Give Our Yes" are excellent ways to celebrate the jubilee. The missionary cross was brought to the Philippines along with Christianity by Spanish explorers. In the Philippines, it is a symbol of a positive encounter between Western Catholic and Filipino culture.
"We Give Our Yes" was commissioned by the Catholic Bishops' Conference of the Philippines. In difficult times, like those of the world pandemic, they wish to convey the power and hope of the Catholic faith. The theme of the 500-year message is "Gifted to give," which recalls the Gospel phrase "Freely you have received, freely give."
The song was also recorded by the Philippine Madrigal Singers, who give it a unique choral twist. Hear their impeccable vocals below.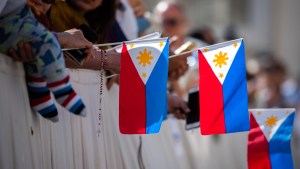 Read more:
COVID-19 pushes back Philippine Catholics' 500th anniversary celebrations