"A fast that will not make you hungry."
After praying the midday Angelus on February 28, Pope Francis expressed his hopes that everyone is having a "good journey" in Lent.
The pope went on to make a recommendation for a Lenten fast:
… a fast that will not make you hungry: a fast from gossip and slander. It is a special way [of fasting]. In this Lent I will not speak ill of others; I will not gossip…. And we can all do this, everyone. This is a good fast.
The Holy Father also offered another reminder: "it will also be helpful to read a passage of the Gospel, to carry a small Gospel in your pocket, in your purse, and pick it up when you can — any passage."
"This," he said, "will make the heart open to the Lord."
A father's counsel
Both of these recommendations are among the pope's favorites. The Holy Father has often warned against gossip and slander.
Back in 2016, speaking on that occasion to religious, he spoke of gossip as "terrorism," a metaphor he's repeated on other occasions.
Because whoever gossips is a terrorist. He or she is a terrorist in the community, because a word against this one, against that one, is as ugly as a bomb … it destroys! The one who does this destroys, like a bomb, and [then] he distances himself. The apostle James said having dominion over one's tongue was perhaps the most difficult virtue, the most difficult human and spiritual virtue to acquire. If you think of saying something against a brother or sister, to lob a gossip bomb, mortify your tongue! Be strong! No terrorism in community!
As well, the pope likes to recommend keeping the Gospel at hand, and has on more than one occasion given out pocket Gospels to pilgrims. Even just a couple minutes with the Gospel can change your life, he says.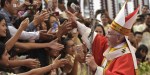 Read more:
Just 2 min a day with the Gospels, and your life will change, says Francis