An honest look at ourselves is different from not loving ourselves as God does.
Somewhere, stashed away on the hard drive of a computer, is a failed novel I wrote about 15 years ago. I wouldn't mind that much if it became lost forever, but in another way, that would feel like a tremendous loss. Yes, the writing and plot are terrible and it's not a good novel, but it's my novel. Tucked away in its digital drawer gathering dust, its existence is similar to pulling out a penknife and scratching my name into a tree trunk to prove I was here. I lived. I wrote. Even though I'm embarrassed to show it to you.
My novel is the absolute worst, but the reason I bring it up is because, when I think about it, I feel an overwhelming urge to criticize myself.How could I have written that? Do I even know how to write? If people knew it existed, would they ever read my essays again? I've had to come to terms with these questions and put them in perspective. There's a fine line between honestly admitting that the novel isn't very good and constantly criticizing myself, which leads to continuing anxiety and self-doubt.
Self-criticism is a necessary part of self-knowledge and knowing our limitations. No one wants to be delusional about what they're good at and what they're not. It isn't unusual, though, for self-criticism to become shameful and judgmental. It paralyzes us. What if that failed novel had started a never-ending cycle of shame that convinced me I would never be a decent writer?
I see self-criticism take hold in my children. They come to believe a certain idea about themselves – that they're bad at math, or cannot play piano – and it sabotages them. As a parent, it's frustrating because I know that the idea they've come to believe about themselves is false. I see it so clearly, and yet I'm just like them. Many others I know are the same way because we internalize critical narratives about ourselves that distort our self-understanding. We've told ourselves so many times you're bad at this, or you can't do that, that we nowbelieve it with almost a religious fervor. It's a process that can only end in paralysis. If nothing can be done right, it's better to attempt nothing at all.
That's exactly what out of control self-criticism motivates us to accomplish – nothing of at all. The real shame is that the constant script playing out in our minds that points out all our shortcomings and flaws is unimaginative. It assumes the worst possible interpretation of a world in which nothing quite works, every chess game ends in a draw, every effort an embarrassing failure. There's no excitement left, no dreams or ambitions. It's boring.
It's also safe. Strangely enough, I think this is why we become addicted to self-criticism. At times it's almost pleasurable. It makes us suffer but, in also protects us against disappointment. Self-criticism is limiting, but comfortable. I almost wonder if we're afraid — afraid to strive, afraid to celebrate our wins.
I remember the first time I wrote an essay and sent it to a publisher. I was convinced the editor would read the first line, laugh, and delete it. That would be the beginning and the end of my writing career. But I steeled my nerves and risked a failure. And yes, dear reader, I did fail. That essay was not published. Then I wrote another, and it was published. I've published hundreds of essays now, but each time I click the send button on my email to send one to an editor, I'm convinced it will be rejected outright, or the readers will laugh at me, or I'll get nasty comments in response. Those things sometimes happen, but what I've learned is that most of the anticipated negative reaction is in my head, and editors and readers are unfailingly generous and kind.
This kindness has revealed to me the secret of overcoming addictive, unhealthy self-criticism. The secret is to think of myself the way that other people think of me. For some reason, we're harder on ourselves than we are on other people. We take care of other people better than we take care of ourselves. We're more inclined to extend mercy and forgiveness to others.
It's a mistake to refuse yourself mercy. No, you're not perfect. Neither am I. Be merciful anyway. Be compassionate. If it's all you can do, force yourself to know that there are people who love you very much, and a God who loves you very much. Who are we to tell God that he's wrong? Who are we to tell everyone who loves us that, no, in fact, we have no talent and they're all mistaken?
So be merciful with yourself and embrace both victory and defeat. Constant self-criticism holds us back. It's time for us to leave it behind, and jump into life with enthusiasm. Maybe someday I'll be brave enough to write a new novel.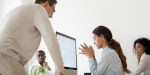 Read more:
How to accept criticism without letting it get to you