Taking a professional approach helps those who work in ministry to uphold the dignity of their mission.
Jason Deuterman was at a conference on ministry leadership several years ago when he had a conversation that left him speechless.
He had just finished speaking about the need for Church leaders to be professionals when an attendee approached him and said, "Our point is not to be professionals, but to follow Jesus."
"I thought he wasn't entirely right," Deuterman said. "This very statement would alter the trajectory of the way I thought about ministry moving forward."
With over 13 years of parish and diocesan ministry experience, including as current director of Youth, Young Adult, and Campus Ministries for the Diocese of Dallas, Deuterman thoroughly understands ministry in today's Church. So why did he find the attendee's statement incomplete?
In his years of ministry work, Deuterman has found, again and again, that professionalism is vital to ministry. He explains his reasoning in his OSV Talk, "The Subtle Deterioration of True Professionalism" (available to watch on Vimeo and Facebook).
The video is one in a series of OSV Talks, which shine a light on creative means of evangelization, springing from the wisdom and deep prayer that energize these approaches. The talks, which are similar to TED Talks but with a Catholic focus, are free and available for anyone to watch at OSVTalks.com.
His talk is a fascinating exploration of professionalism, from the etymology of the word "professional" to the history of professions to what professionalism means in today's world.
"The history of the world 'profession' is actually deeply connected to what you and I do in ministry," Deuterman said. The word "professional" comes from "profiteri," which was first used in the 13th century in association with the public profession of vows by a person to a religious order. From that perspective, Catholic religious are the original professionals!
Unfortunately, a lack of professionalism in ministry is causing problems, both large and small, Deuterman said. He identifies that this "subtle deterioration of professionalism" is revealed in the following ways (among others!):
Undisciplined use of time
An expectation of working or volunteering for "ridiculous hours," even "at the expense of their primary and sacramentally bound vocations"
Shoddy work ethics
Rampant procrastination and poor preparation
Little interest in continuing education
Careless communication and distaste for being called out for it
Opportunities for renewal and sabbatical are frowned upon
These issues prevent those in ministry from being the "ambassadors for Christ with excellence" they are called to be, he said.
In the face of this declining professionalism, what can be done? Deuterman doesn't just identify problems. He also offers clear-eyed, practical solutions.
The majority of his ideas can be viewed in his talk. He notes these 6 steps in particular as key to maintaining a spirit of professionalism in ministry.
Step 1: Understand the implications of the Lord's call to be a disciple.
Step 2: Transparently and ardently uphold the dignity of that call.
Step 3: Lean into the call by tethering yourself to the Sacred Heart of Jesus, through the intercession of Mary.
Step 4: Begin each day with a fresh desire to reconsecrate yourself to the call, in desire and pursuance.
Step 5: Rightly order your day with the essential duties that will strategically accomplish the mission.
Step 6: Regularly take time for recollection to ensure you're staying on mission.
Deuterman's advice is helpful to anyone who works in ministry. His talk is well worth taking to heart, so that all who work in ministry can maintain the high standards that honor their call.


Read more:
OSV Talks: Why the Church needs "inefficient innovation"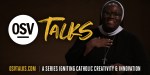 Read more:
OSV Talks: Renewing the Church from the inside out