"It was what God wanted us to do."
Pam and Gary Willis were on the verge of starting a new life, as the youngest of their five kids was to about to head off into the world. But their plans were derailed when Pam came across the heart-breaking story of a a group of seven siblings needing a new mom and dad after a year in a foster home.
"I can't explain it — I just knew I was supposed to be their mom," shared Pam with Today Parents.
Having read about their plight, Pam sent the story to her husband, Gary. Later that evening, she asked Gary, an ex-Navy serviceman, if he'd read the story. Her husband simply replied: "We should adopt them."
Yes, that's seven kids — aged 1 to 12 at the time. Pam explained in an Instagram post that it was a natural decision, as their home was about to become child-free and all those bedrooms would be going to waste.
The couple contacted child services and offered their home and their love to the young orphans, who had a tough childhood with parents who had addiction problems. "It was what God wanted us to do," shared Pam.
So the couple expanded their family to include Adelino, 15, Ruby, 13, Aleecia, 9, Anthony, 8, Aubriella, 7, Leo, 5, and Xander, 4. The children struggled, especially during the first six months, to believe that this would be their forever home, that Pam and Gary would be there to stay.
During the chaos of the pandemic, the Willises wanted all 12 of their children present as their new happy family became official. So the adoption process had to be complete before their youngest "bio child" headed off for missionary work, on August 11 last year.
Thankfully all of the older siblings, Matthew, 32, Andrew, 30, Alexa, 27, Sophia, 23, and Sam, 20, were present when the seven youngest were adopted, and the family held a COVID-safe celebration.
As the family grow together in love, they're also growing in faith. During the pandemic they've been attending Zoom and parking lot church services. And finally, on Leecie's 9th birthday this year, the family managed to go in person to church, the first time in over a year, much to the youngster's joy!
For the couple, who met in their teens, life has taken an unexpected but joyful path. The children have "given us a second chance at parenting; we've given them a second Mom and Dad," Pam expressed in her Instagram post.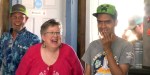 Read more:
Teacher adopts 30-year-old former student with special needs who was wandering the streets