Similarities in iconography and example of incultured evangelization impel Bishop Bryan Bayda to lead others to Mexico City.
You can get Aleteia inspiration and news in your inbox. Our specially curated newsletter is sent each morning. The best part? It's free.
Sign up here
The use of icons in Churches of the East, including Byzantine Catholic Churches, is far more than simply a primitive version of Western religious statuary. Iconography involves a deep theology that includes the belief that the images are painted versions of Sacred Scripture. 
"An icon is an instrument for the transmission of Christian faith, no less than the written word," writes Jim Forest in Praying With Icons. "Through sacred imagery, the Holy Spirit speaks to us, revealing truths beyond the reach of words."
That's why one often hears about an iconographer "writing" an icon, though one would normally speak of "painting" works of art. 
And that's one reason why Bishop Bryan Bayda felt so drawn to the image of Our Lady of Guadalupe. The image, which is enshrined in the basilica of the same name in Mexico City, was not painted, but appeared miraculously on the tilma (a cloak woven of rough cactus fiber) of an indigenous peasant in 1531. In Bishop Bayda's view, the image was "written," by the hand of God himself.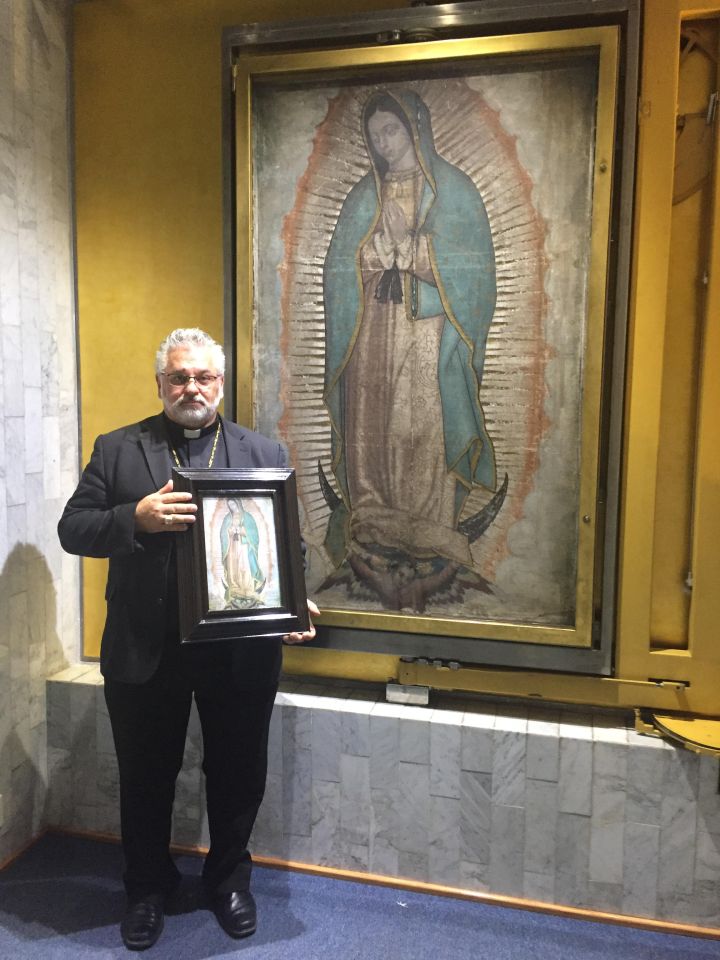 Photo Courtesy of Bishop Bryan Bayda, CSsR
For many years, since his installation as bishop of the Ukrainian Catholic Eparchy of Saskatoon, Saskatchewan, Canada, in 2008, Bishop Bayda has led an annual pilgrimage to the Basilica of Our Lady of Guadalupe. It might surprise some to learn of a group of pilgrims coming to Mexico not simply from such a long distance geographically but also a very different place culturally. 
But there is that similarity to icons. Bishop Bayda, a Redemptorist priest, came to love and appreciate Our Lady of Guadalupe early in his episcopate, hearing an explanation at a conference of the Knights of Columbus.
"It really intrigued me how this image was so symbolic," he said in an interview with The Pillar this week. "It was written, it was basically a visual of the word of God, which so speaks to me as Ukrainian Catholic."
Referring to the icon screen and other iconography found in Byzantine churches, he added, "In our tradition, visually you come into a church and you have, you know, a big portion of the Gospel, a good portion of the Scripture, written on the walls."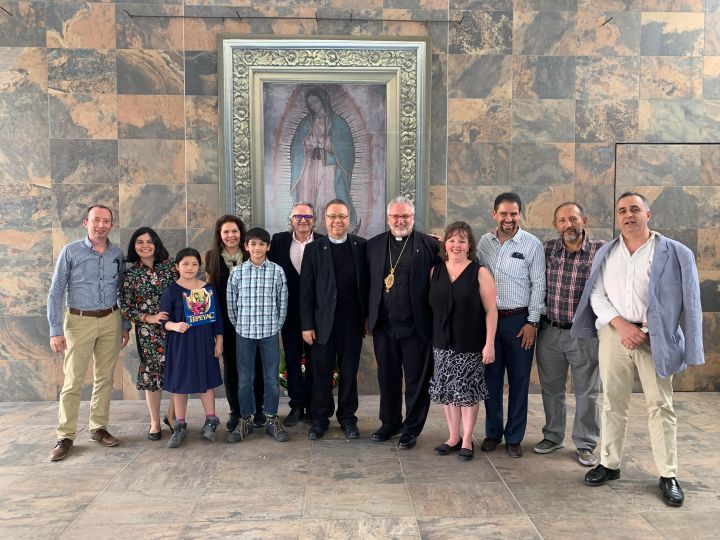 Photo Courtesy of Bishop Bryan Bayda, CSsR
Speaking to the culture
But there is another resonance for Bayda. Centuries before the apparitions of Our Lady of Guadalupe led to the massive conversion of the Aztecs, the missionary brothers Sts. Cyril and Methodius made inroads into Slavic lands in Eastern Europe. To preach the Gospel, they needed to learn the local languages and customs. Thus, Ukrainian is written in Cyrillic letters, so called because of the alphabet developed by St. Cyril.
Such "inculturation" of the Gospel found a more perfect expression in Our Lady of Guadalupe. 
"She was the perfect — not just an average — but the perfect example of incultured evangelization," Bishop Bayda told The Pillar. "If I want to evangelize someone, it behooves me to take a look at who they are, their language, their background, their customs, where they lived, even possibly the immediate family, the domestic church: 'Who did you live with? What did you do in your house? How did you practice your faith?' And then [I can] point out and celebrate with them: 'This is how God has been present in your entire life.'"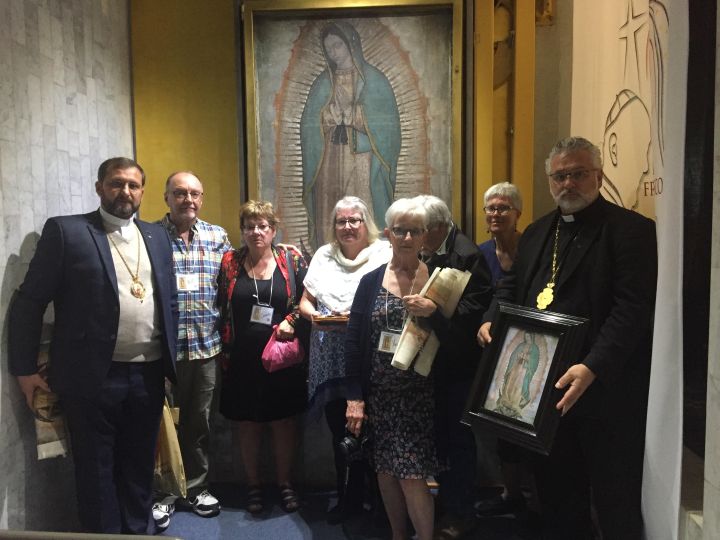 Photo Courtesy of Bishop Bryan Bayda, CSsR
Our Lady of Guadalupe evangelized the indigenous peoples of Mexico in this way, he said. "She pointed out how God has been present all this time." 
Between his own Eparchy of Saskatoon, and, at present, as temporary administrator of the Eparchy of Toronto, whose bishop retired, Bishop Bayda oversees a flock of 50,000 Ukrainian Greek Catholics. But he indicated that he and his Church are there to serve those who are not ethnically Ukrainian as well, including descendants of the First Peoples of Canada. 
In this sense, Our Lady of Guadalupe is his guiding star in evangelistic endeavors.
"Today in Canada, if we want to evangelize one another, in this case, if I'm speaking to an indigenous group, I need to understand their culture. I need to understand their language, their ways of expressing things, their ways of understanding nature, their relationship with it, and then I can celebrate with them the presence of God in all of those things."