Inspired by rural shepherd huts, this father of five worked for years to build a special place to honor Our Lady.
David is an economist, husband, and father who spends his days off in Cabezamesada, a little village in Toledo, Spain, of only 340 inhabitants.
Despite having no experience in construction, he decided to build a small chapel to the Virgin using his own hands and the stones he found in the countryside. This May he officially "inaugurated" it with a family pilgrimage.
Learning through YouTube
Cabezamesada is the village where his wife's family is from. They have a house there where they visit for weekends and vacations.
Gentileza
On his cycling trips, David was captivated by the shepherds' huts. These small structures are built of stones fitted together and serve as shelter for shepherds and farmers after their long days in the fields.
Fascinated by the dry stone technique, he set himself the challenge of building something, learning how it was done by watching YouTube videos. He said,
"It occurred to me that I could dedicate my efforts to something more useful, bigger, and better than my own satisfaction, so I dedicated my small project to the Virgin, who takes such good care of me and my family."
His father-in-law, Melquiades, showed him a hill in an olive grove with fantastic views. It was the ideal location for the shrine to the Virgin Mary.
David set himself a few limits: "not to spend any money on the project and to use the same ancient construction techniques, so all that was left were the stones from the field, my wits, a ruler, a plumb line and my hands."
"They thought I was crazy"
The adventure began in 2019, during vacations and weekends. Little by little, stone by stone, he tested his work and his technique to see if what he was building would stand. David and Teresa have five children, who watched their father spend hours and hours on that hill. David recalls,
"It seemed to be going slow and I tried to hurry more than I had to, arriving home at night, quite dusty and really tired. Imagine the look on my wife and children's faces; they thought I was going crazy! Which is perfectly understandable, especially putting myself in the place of a teenager, who sees that his father decides to spend his weekend rest working, laying stones."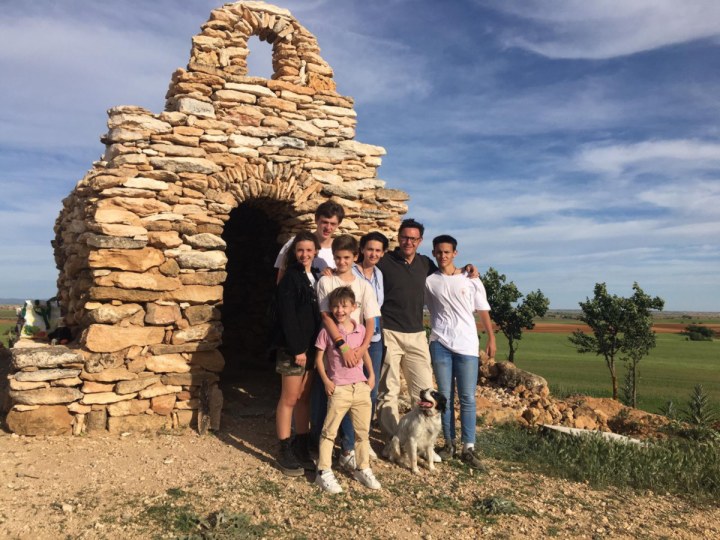 Gentileza
But knowing that it was for the Virgin and seeing the passion their father put into it, the children offered to help him, mainly in picking out each stone, which has to be specially selected to fit in with the others.
His wife and children were always there for him when setbacks came. He remembers a few moments of discouragement along the way:
"On two occasions, part of the construction collapsed (you shouldn't think that these things come out right the first time) and my fatigue was also noticeable. That's when you need a good source of motivation to keep going and start over again. My transcendent motivation went beyond mere human motivation: I couldn't offer the Virgin something half-finished."
Gentileza
Family pilgrimage
In the month of the Virgin Mary and after a year and a half of construction, it was time. David invited his parents, his brothers and sisters, brothers-in-law, and nieces and nephews.
In total, there were more than 30 people present for the big reveal. They were completely amazed when they arrived at the chapel and saw the construction, with the detail and the love that had been put into every stone, with a small vaulted ceiling and everything!
Inside they saw the statue of Mary, the Queen of Heaven, under the title of Our Lady of Mount Carmel.
"We were all together, giving thanks to God and asking for forgiveness and help. Perhaps one of the benefits of having built the chapel little by little has been the quiet and peace that surrounds you when you're alone in the countryside. Praying comes naturally in those conditions, but the pilgrimage was like fulfilling the purpose that gave birth to the original idea. In fact, praying the Rosary all together made us feel the affection of the Virgin in a very special way."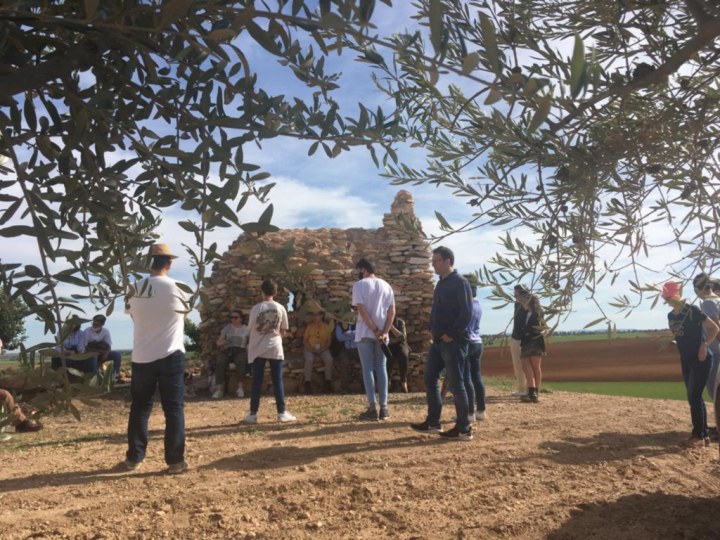 Gentileza
Now, the neighbors in Cabezamesada are discovering this small shrine, a place of recollection and prayer.
Every time David learns that some locals have come to see the Virgin, it fills him with joy. His project is meaningful for the whole community.
"It makes me very excited when I'm at work and, suddenly, I receive photos by Whatsapp from a neighbor in the village who's gone to the chapel and sends me a message. I think they feel proud."