Lady Diana, who would have been 60 years old this past July 1, 2021, was buried with a rosary Mother Teresa gave her.
While no one could have foreseen the friendship that united the Princess of Wales and the saint of Calcutta, the reality is that the two women were linked by their common concern for the poorest of the poor.
Upon hearing of Lady Di's death, Mother Teresa sent her condolences, saying of Diana, "She was very concerned for the poor. She was very anxious to do something for them, and it was beautiful. That is why she was close to me."
The nun died a few days later, on September 5, 1997. The two women had seen each other just months before, in June 1997, in New York. According to The Independent, Diana and Mother Teresa "walked hand-in-hand through the streets of New York's Bronx … They hugged, kissed, and prayed together during the 40-minute visit and Mother Teresa blessed the princess."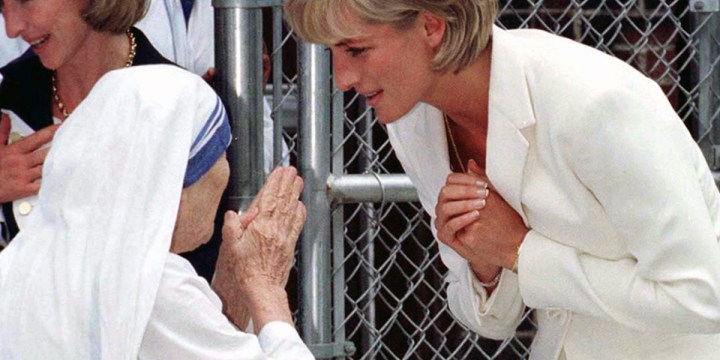 Mike Segar | Reuters
The hours following the death of the princess were reported in great detail in the Daily Mail. On the night of August 30-31, 1997, when Paul Burrell, Diana's butler, learned of her tragic death from Kensington Palace in London, he was asked to bring items dear to her to the Pitié-Salpêtrière Hospital in Paris, where the princess had been taken. Devastated, he went to her apartments:
Burrell looks at the Princess's desk with its fountain pen and bottle of Quink, next to a list of words to improve her vocabulary.

He picks up a set of rosary beads given to the Princess by Mother Teresa, which is draped over a small statue of the Virgin Mary, and puts them in his pocket.
Arriving at the hospital, it was Colin Tebbutt, Diana's driver, who gave the precious rosary to the nurse. He asked her to place it in the hands of the princess. A photo of her two sons, which she kept in her handbag, would also be placed in her coffin.
We do not know whether Mother Teresa knew that the rosary she had given to Lady Di accompanied her to her final resting place. We hope and pray that the Blessed Mother, and not just the rosary, was near the royal during and after her tragic death, helping her obtain the graces she needed to be welcomed in due time into the Kingdom of Heaven, with her saintly friend.