On this anniversary of the "Miracle of the Sun," Pope Francis prays that Mary's light will free us from evil.
"Today we remember the last apparition of Our Lady of Fatima," Pope Francis recalled at the end of the October 13 general audience.
October 13, 1917, was the sixth and final of the Marian apparitions in Fatima, Portugal, that had started on May 13 of that year.
Calling herself "Our Lady of the Rosary," Mary appeared to three little shepherd children, and urged Christians to practice penance, to pray the Rosary daily, and to have devotion to her Immaculate Heart for the conversion of sinners.
On the day of her final apparition, the "Miracle of the Sun" occurred. Witnessed by some 70,000 people, the sun "danced," bringing many to believe that Our Lady really had been appearing to the little shepherds.
Two of the three visionaries died at young ages and are now canonized, the Church's youngest non-martyr saints.
Maternal comfort
Pope Francis said he entrusts all to the Mother of God, "that she may accompany you with maternal tenderness on your journey and be a comfort to you in the trials of life."
He prayed that Mary would "be our guide on the path of continual conversion and penance, so that we may encounter Christ, the sun of justice. May her light free us from every evil and dispel the darkness of this world."
Speaking to the Portuguese faithful about their beloved Fatima Lady, Pope Francis urged them to strengthen their sense of feeling close to the Church and living with the Church, "persevering in the daily prayer of the Rosary."
"In this way," he said, "you will be able to meet the Virgin Mother every day, learning from her to cooperate fully with the plans of salvation which God has for each of you. May the Lord bless you and your loved ones."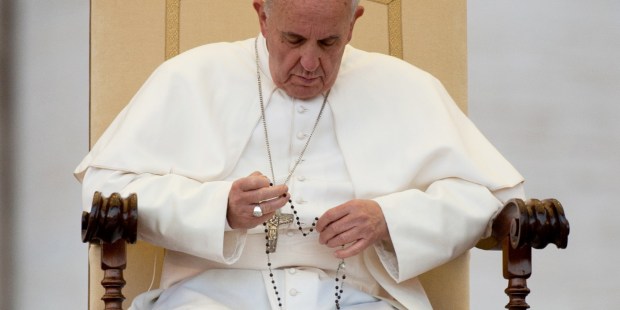 Launch the slideshow