191 bishops and 16 cardinals - including two electors - have passed away since last November.
Pope Francis delivered a meditation on the experience of suffering, during a Mass celebrated November 4 in memory of the cardinals and bishops who died in the past year. The Pope reflected that the crisis is "a mysterious opportunity for interior purification."
It was a homily of lights and shadows that Pope Francis delivered in St. Peter's Basilica, where he celebrated at the altar of the Chair of Peter surrounded by 25 cardinals and 22 bishops. This year's suffrage Mass for deceased cardinals and bishops involved 191 bishops and 16 cardinals – including two electors – who died during the year.
Discouragement, resignation, bitterness, pessimism, crisis …
Pope Francis built his homily around the suffering that every person experiences here on earth. Using the word "trial" eight times, he wished to enlighten and reassure those who despair or believe they have "hit rock bottom."
For the Pontiff, "a passage through trial, if it is lived in the warmth of faith, despite the harshness and tears, enables us to be reborn. Mysteriously, the crisis actually becomes the place of purification."
"The trial renews us, because it removes a lot of decay and teaches us to look beyond the darkness, to experience with our own hands that the Lord truly saves and has the power to transform everything, even death," he assured.
In fact, reflected the Pope, we should almost worry when there isn't a crisis of some sort. "Prosperity […] often makes us blind, superficial, proud," he warned.
Certainly, "pain remains a mystery." But before we cry, "emotion has already reddened the eyes of God the Father," he promised. In the end, "what seems to be a punishment will turn out to be a grace, a new demonstration of God's love for us."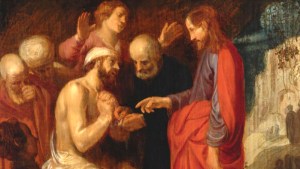 Prayer for the dead cardinals and bishops of Covid-19
To conclude his homily, the head of the Catholic Church prayed for the 16 cardinals and 191 bishops who died during the year. "Some of them died as a result of Covid-19, in difficult situations that aggravated their suffering," he stressed, wishing that they would now savor the joy of the invitation that the Lord addresses to his faithful servants: "Come, you blessed of my Father, receive for your inheritance the kingdom prepared for you since the creation of the world" (Mt 25:34).