If you have been to Rome, it is highly unlikely that you have not noticed this store right across St. Peter's Square.
What can God do in your life with one Bible verse a day?
Subscribe to Aleteia's new service and bring Scripture into your morning:
Just one verse each day.
Click to bring God's word to your inbox
If you have ever been to Rome (all roads still lead there) you have most likely visited St. Peter's Square, the very heart of the Vatican City. Chances are you have done so on a Sunday. And maybe you have been fortunate enough to be there right when Rome's most punctual clock (the noted Cannone del Gianicolo, the Janiculum Cannon) announces, with a loud bang, that midday is here. It is then when all the bells of the more than 600 churches of the city (but those of St. Peter's Basilica in particular) begin to toll, and the pope reaches the window at the Apostolic Palace to greet the many pilgrims who, Sunday after Sunday, rain or shine, gather there to pray the Angelus, listen to his message, and receive his blessing.
If you have, then, it is highly unlikely that you have not noticed, right across the Square (in fact, just in front of the pope's window itself), the classic store that has been, for more than half a century, an almost mandatory stop for every pilgrim visiting Rome —the famous Mondo Cattolico store, founded back in 1952. Most pilgrims, right after receiving the pope's blessing, would walk only a few steps to get there and purchase all kinds of Catholic religious articles. Some of them would get a rosary, a cross, an icon, or a statue of their patron saint. Others purchase other kinds of souvenirs (small reproductions of some of the great Italian Renaissance masterpieces, for example). Others would venture further, and visit the Mondo Cattolico Mosaic Art Gallery, which gathers together a valuable collection of precious mosaics, both ancient and modern.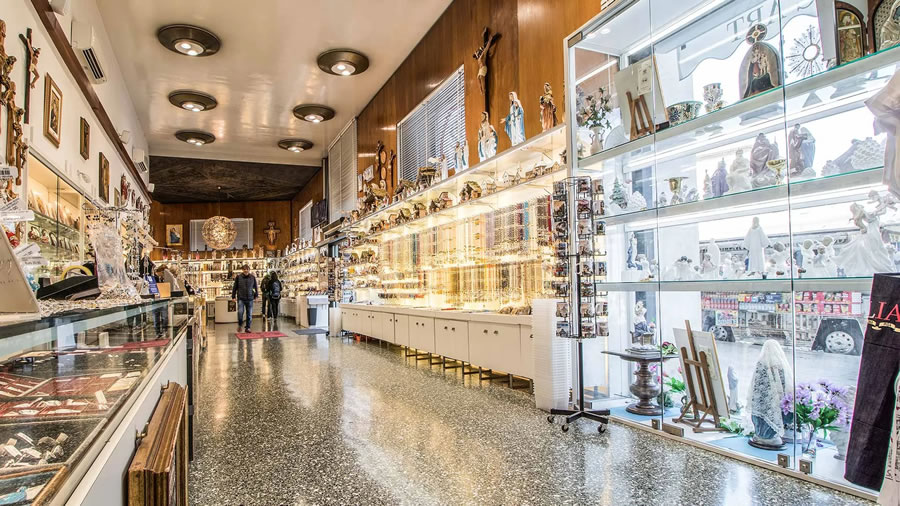 Some visit the store before the blessing, and bring the religious objects they buy with them to the square, so the objects themselves are blessed during the event. This is, in fact, an ancient Christian practice, and there are many different reasons why objects can and even should be blessed. Icons or other images or religious objects that are to be kept in the household are blessed since they will be used to pray regularly. We bless tools and other objects that help us understand the many different dimensions of human labor, recreation. We even bless the vehicles that make it possible to overcome distance and come together.
But the custom of bringing objects to St. Peter's Square so they are blessed on Sundays has a very specific origin: it goes back to December 1969, when Paul VI stood at the window and blessed the figurines of the Infant Jesus Roman children had brought with them. This soon became a typically Roman tradition that is still alive today. As we read in the website of the very same Mondo Cattolico store,"every year, on the third Sunday of Advent, a multitude of children from the different dioceses of the world gather in St Peter's Square, turning their Infant Jesus crib figurine upwards during the Papal Blessing." Needless to say, you can purchase your own figurine in their online shop, in this link.
Make sure to visit the Mondo Cattolico website to discover more details on where to find the store in your next visit to Rome, or to see some of the many different items the shop has to offer.