After little Gabriel died, his mother felt inspired to honor his memory with beautiful works of art.
When Isabelle from Avignon, France, picked up the phone to tell her story to Aleteia, her very soft voice was interrupted by small moments of breathlessness:
Forgive me, but I'm due to give birth at any moment and sometimes I have a hard time breathing, but let's not postpone our appointment! I'd like to tell you my story today. There will be a symbolic link between the mourning of my son who died at a few weeks of age and the fast-approaching birth of this baby … What a grace to welcome life, what a grace that life is entrusted to us … it definitely does not belong to us, and yet what a gift!
Alain Lemaire | Alain Lemaire/courtesy of Isabelle Guizard
Isabelle was 36 years old when, in May 2018, she gave birth to premature twins, Gabriel and Augustin. Very quickly, Gabriel contracted an infection. He had to be taken immediately to intensive care. "For the next three weeks, he was between life and death. With my husband Philippe, our older children—Raphaël (13 years old), Madeleine, and Elisabeth (twins, 10 years old)—and our families, we prayed day and night. But at the end of June, after a few weeks of life, Gabriel left," says Isabelle.
She continues:
He died in our arms. We knew that there was nothing more to do. Gabriel was kept alive by respirators, and the doctors had told us that it was up to us to choose the day to say goodbye. It was a terrible thing to go through, but we prayed very, very hard. Then, Gabriel was baptized. Afterwards, the doctors took him off the respirators. He was then in his Daddy's arms, then in mine. And at that very moment, when he was already dead, he started to breathe again, just to say goodbye.   
At the time of the baby's burial, Isabelle received a great grace of faith that has never left her since. "I was not troubled in my faith; on the contrary, Gabriel's death brought me closer to the Lord," she says. It's this grace that allows her to mourn and inspires her to decorate the grave of her son with mosaics. Isabelle has a degree in fine arts, so she launched into the work, helped by a friend who is a mosaicist. This is not her first mosaic; she'd already made one a few years earlier for the grave of her grand-niece.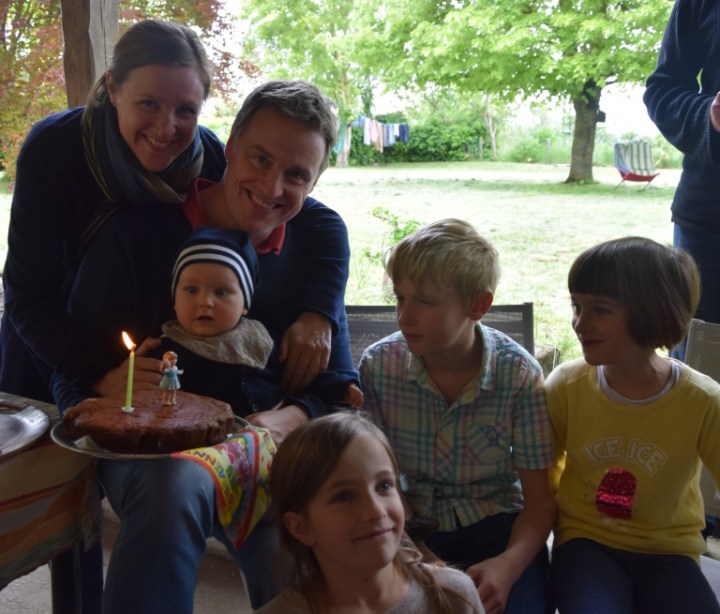 courtesy of Isabelle Guizard
She set up her workshop in the family room while taking care of her four children. The work took her time. "It wasn't emotionally neutral. If it had been for anyone else, it would've taken me 6 months. Here, I was so invested in this triple mosaic for my baby, it took me two years," she admits. However, this time of work as an artist was, for her, a time of prayer. "I listened to the songs of Chemin Neuf while working. They allowed me to be in constant praise, close to my son who is close to the Lord. I meditated, I thought about him, and I wasn't sad. I felt like I was touching heaven a little bit thanks to Gabriel," she says.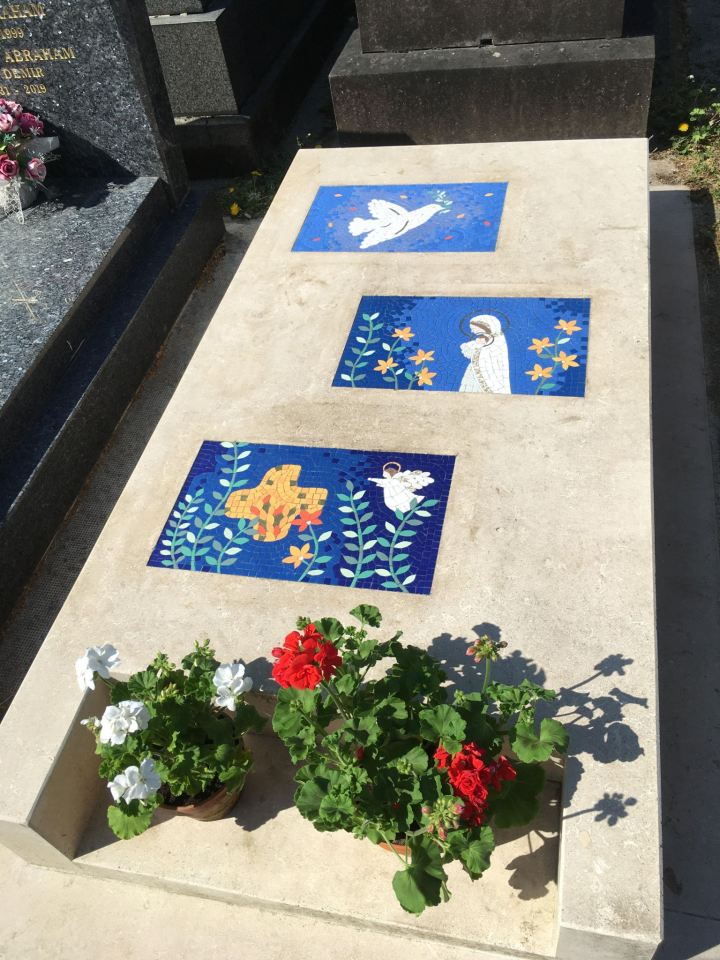 courtesy of Isabelle Guizard
At last, Gabriel's parents put the mosaic on his grave this year. Since the family plot is near Paris, having the mosaic there allows Isabelle, who lives in Avignon, to feel closer to her son. "It was also my gift to him," she adds. And the idea of making mosaics to help others mourn and decorate the graves of their loved ones was born immediately, and quite naturally.
For more information on Isabelle's mosaic making: latelierdelisle@gmail.com