Real people are at stake! The future of us all is at stake ...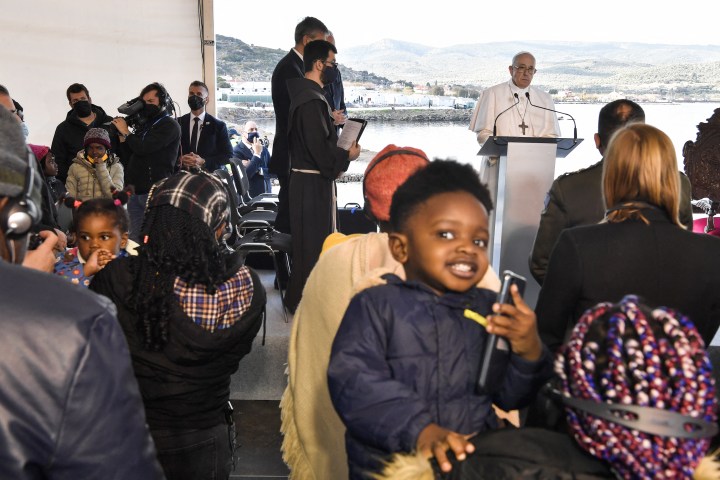 LOUISA GOULIAMAKI / POOL / AFP
Five years ago on this island, the Ecumenical Patriarch, my dear brother Bartholomew, said something that struck me: "Those who are afraid of you have not looked you in the eye. Those who are afraid of you have not seen your faces. Those who fear you have not seen your children. They have forgotten that dignity and freedom transcend fear and division. They have forgotten that migration is not an issue for the Middle East and Northern Africa, for Europe and Greece. It is an issue for the world" (Address, 16 April 2016).
Pope Francis thus began an address to refugees at the "Reception and Identification Centre" in Mytilene, on his last full day in Greece, December 5.
Just before his speech, the Pope listened to testimonies, including that of Christian Tango Mukaya, who arrived from the Democratic Republic of the Congo a year ago. This father of three said he was looking for "a safe place and shelter, peace, the survival of [his] family."
Pope Francis reflected that global progress is being made in responding to the pandemic, or in addressing climate change, but in the migrant issue, there's no such progress.
Yet human lives, real people, are at stake! The future of us all is at stake, and that future will be peaceful only if it is integrated. Only if it is reconciled with the most vulnerable will the future be prosperous. When we reject the poor, we reject peace. …

It is an illusion to think it is enough to keep ourselves safe, to defend ourselves from those in greater need who knock at our door. In the future, we will have more and more contact with others. To turn it to the good, what is needed are not unilateral actions but wide-ranging policies. Let me repeat: history teaches this lesson, yet we have not learned it. Let us stop ignoring reality, stop constantly shifting responsibility, stop passing off the issue of migration to others, as if it mattered to no one and was only a pointless burden to be shouldered by somebody else!
The Pope cited Holocaust survivor Elie Wiesel, "a witness to the greatest tragedy of the last century," who said that "I refuse to forget that their future is as important as my own."
"On this Sunday, I ask God to rouse us from our disregard for those who are suffering," Francis said, "to shake us from an individualism that excludes others, to awaken hearts that are deaf to the needs of our neighbours."
The Pope entrusted this tragedy to Our Lady.
Let us now pray to Our Lady, that she may open our eyes to the sufferings of our brothers and sisters. Mary set out in haste to visit her cousin Elizabeth who was pregnant. How many pregnant mothers, journeying in haste, have found death, even while carrying life in their womb! May the Mother of God help us to have a maternal gaze that regards all human beings as children of God, sisters and brothers to be welcomed, protected, supported and integrated. And to be loved tenderly. May the all-holy Mother teach us to put the reality of men and women before ideas and ideologies, and to go forth in haste to encounter all those who suffer.
Here are some images from the visit: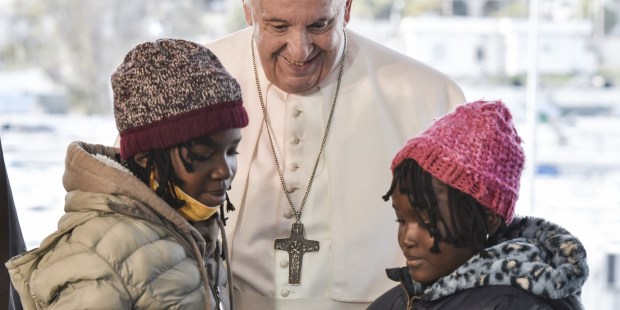 Launch the slideshow